Thu Mar 31, 2016, 03:33 PM
Currentsitguy (23,660 posts)
Active shooter reported at Greyhound station in Richmond, Virginia
Breaking now.
http://www.cnn.com/2016/03/31/us/richmond-virginia-active-shooter/index.html
(CNN)Police in Richmond, Virginia, are responding to an active shooter situation at a Greyhound bus station, spokeswoman Koury Wilson told CNN on Thursday.
A spokeswoman for Greyhound confirmed there was an ongoing incident. The station is closed.
No other details were immediately available.
7 replies, 674 views
Replies to this discussion thread
| | | | |
| --- | --- | --- | --- |
| 7 replies | Author | Time | Post |
| Active shooter reported at Greyhound station in Richmond, Virginia (Original post) | Currentsitguy | Mar 2016 | OP |
| | Crazy D | Mar 2016 | #1 |
| | NavyBrat | Mar 2016 | #2 |
| | WhiskeyMakesMeHappy | Mar 2016 | #3 |
| | Crazy D | Mar 2016 | #4 |
| | Doctor_R | Mar 2016 | #5 |
| | Doctor_R | Mar 2016 | #6 |
| | Big Kahunna | Apr 2016 | #7 |
---
Response to Currentsitguy (Original post)
Thu Mar 31, 2016, 03:56 PM
Crazy D (13,107 posts)
1. 2 state troopers and 1 civilian wounded latest reports
Sounds like something drug related
---
Response to Currentsitguy (Original post)
Thu Mar 31, 2016, 04:05 PM
NavyBrat (14,750 posts)
2. Back in the 80's, I frequently had to travel to Richmond ...
on union business. This was at the height of the "crack cocaine" era. That is the reason I obtained (and continue to hold) a Virginia concealed carry permit. Richmond is still a tough town.
---
Response to Currentsitguy (Original post)
Thu Mar 31, 2016, 08:49 PM
WhiskeyMakesMeHappy (14,777 posts)
3. Not any updates that I can find. Normally we have the whole history of the shooter by now.
---
Response to WhiskeyMakesMeHappy (Reply #3)
Thu Mar 31, 2016, 10:47 PM
Crazy D (13,107 posts)
4. Trooper is dead
As for the shooter, no comment
---
Response to Crazy D (Reply #4)
Thu Mar 31, 2016, 10:50 PM
Doctor_R (39,339 posts)
5. Shooter is
---
Response to WhiskeyMakesMeHappy (Reply #3)
Thu Mar 31, 2016, 10:59 PM
Doctor_R (39,339 posts)
6. Va. State Police superintendent: Trooper dies after being shot at bus station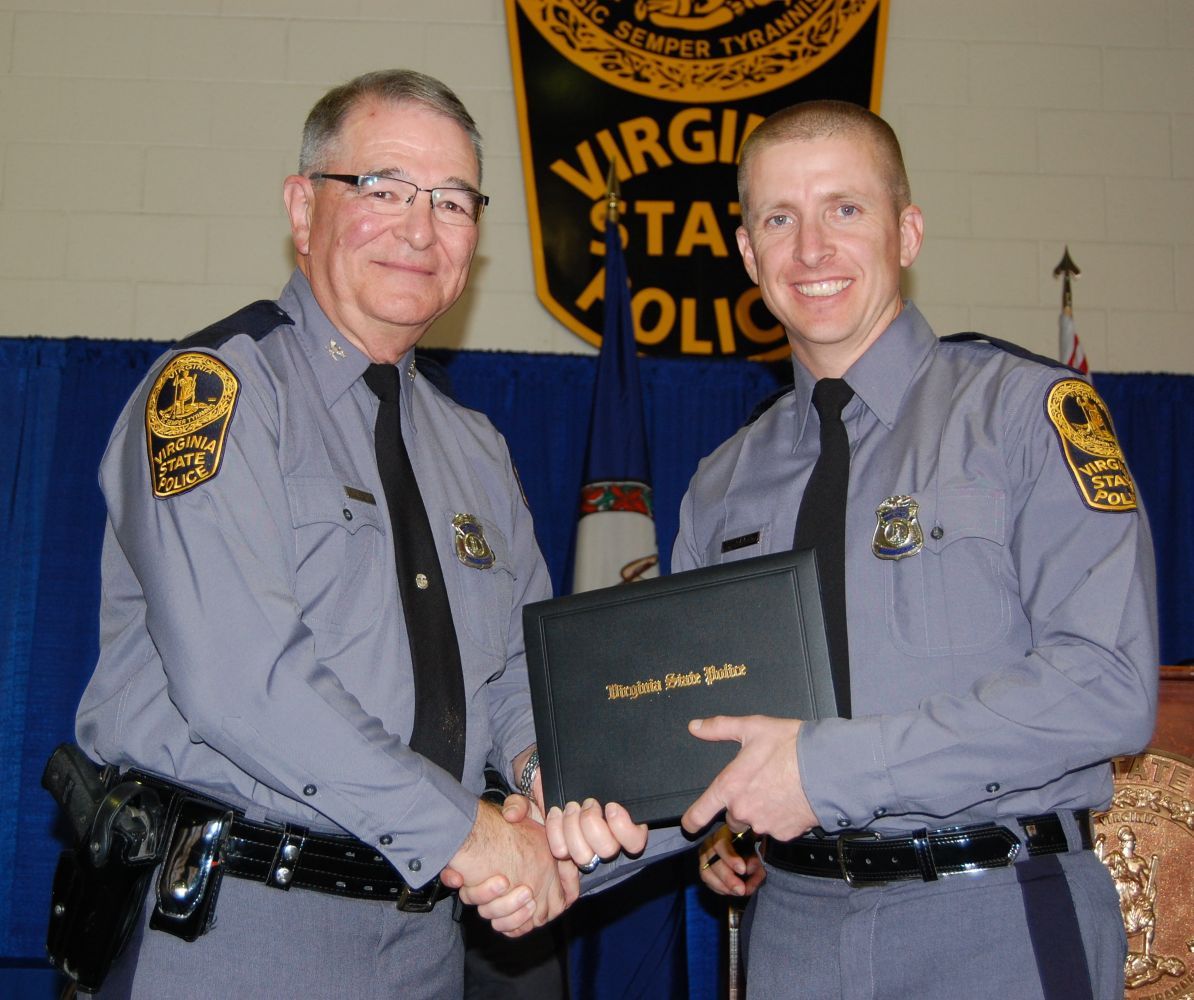 Virginia State Trooper Chad Dermyer receives his graduation diploma from VSP Col. W. Steven Flaherty on Nov. 2014.
A Virginia state trooper was fatally shot and his attacker killed by officers who returned fire Thursday afternoon at Richmond's Greyhound bus station, where the state police were conducting a training exercise, the agency's top officer said.
Two women, one a track athlete from Binghamton (N.Y.) University headed to the College of William and Mary for a meet, suffered what were described as non-life-threatening injuries.
Virginia State Police Superintendent W. Steven Flaherty told reporters at an evening briefing that trooper Chad Dermyer, 37, died from his wounds after being taken to VCU Medical Center following the 2:45 p.m. attack. Police had earlier announced that the gunman also died at the hospital. Dermyer, a Marine Corps veteran and native of Jackson, Mich., graduated from the state police academy in 2014 and had been transferred to a counter-terrorism and criminal interdiction unit after serving on patrol in the Newport News and Hampton areas. A former Newport News police officer, Dermyer was married with two children. "This has been a tough evening, a tough afternoon," Flaherty said. "It's quite a tragedy." Dermyer was in a criminal interdiction training exercise at the bus station with about a dozen other officers who had recently completed classroom instruction when he approached the man and was shot multiple times, Flaherty said. Dermyer and the gunman had been talking only moments before the man drew a firearm, Flaherty said. After shooting Dermyer, the gunman continued firing and moved toward the restaurant area of the bus terminal before officers were able to take him into custody. "Why he reacted, why he had a gun in his waistband, we don't know," Flaherty said. The shooter had a history of criminal charges but Flaherty said authorities had not yet determined how many resulted in convictions. He was not immediately identified, pending notification of family. His body was taken to the state medical examiner's office. Dermyer was not wearing a protective vest, Flaherty said. The equipment is optional in this case, Flaherty said, and indicated Dermyer may have chosen to not wear one because it was a training exercise. What started as a training mission turned into a massive police presence that drew officers from the city of Richmond, Henrico County, state police, FBI, the Department of Homeland Security, the Department of Alcohol, Tobacco, Firearms and Explosives and the U.S. Marshals Service. Traffic backed up on the Boulevard, a main gateway into the city via the nearby Interstate 95 interchange.
Full article here:
http://www.richmond.com/news/local/crime/article_4f1d910e-d3a6-58e3-98a0-7e24a76977f1.html
---
Response to Doctor_R (Reply #6)
Fri Apr 1, 2016, 05:06 AM
Big Kahunna (1,499 posts)
7. Thoughts and prayers go out to the dead officer's family and to all the wounded and their families
https://pmatep5f7b.execute-api.us-east-1.amazonaws.com/ProdStage