Thu Oct 12, 2017, 08:58 AM
Agent_86 (2,538 posts)
The circus is coming to Shelbyville, TN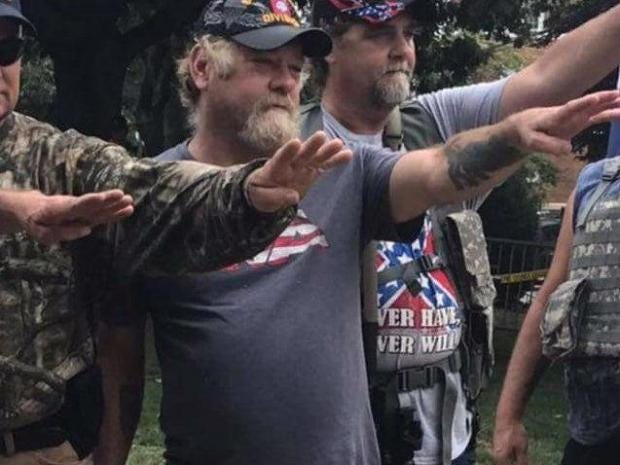 The white supremacist group the Traditionalist Worker Party helped organize the deadly "Unite the Right" rally in Charlottesville, Virginia that claimed the life of anti-fascism protester Heather Heyer. The group's leader is following up by organizing a "White Lives Matter" rally in Tennessee.
Matthew Heimbach was a featured speaker in Charlottesville and told Mic journalist Jack Smith IV that he considered the white nationalist rally as a "stunning success in every regard."
Now Heimbach is helping organize a "White Lives Matter" rally on October 28 in Shelbyville, Tennessee, Mic reported.
Other speakers at the rally include Dillon Hopper of Vanguard America and Jeff Schoep of the Nationalist Socialist Movement (NSM).
https://www.rawstory.com/2017/10/neo-nazis-planning-white-lives-matter-rally-in-tennessee-following-stunning-success-of-charlottesville/
5 replies, 115 views
Replies to this discussion thread
| | | | |
| --- | --- | --- | --- |
| 5 replies | Author | Time | Post |
| The circus is coming to Shelbyville, TN (Original post) | Agent_86 | Oct 12 | OP |
| | Aldar | Oct 12 | #1 |
| | Boadicea | Oct 12 | #2 |
| | TM999 | Oct 12 | #3 |
| | DoDaMan | Oct 12 | #4 |
| | Squeek | Oct 12 | #5 |
---
Response to Agent_86 (Original post)
Thu Oct 12, 2017, 09:02 AM
Aldar (9,740 posts)
1. so you are moving there?
---
Response to Agent_86 (Original post)
Thu Oct 12, 2017, 09:38 AM
Boadicea (6,735 posts)
2. :(
---
Response to Agent_86 (Original post)
Thu Oct 12, 2017, 09:52 AM
TM999 (6,279 posts)
3. Well as long as Antifa and BLM
don't come with weapons spoiling for a fight, this will turn out to be like all the other white nationalists 'meetups'. It will be small, poorly attended, end early, and barely covered by the even the local media.
---
Response to TM999 (Reply #3)
Thu Oct 12, 2017, 11:44 AM
DoDaMan (4,679 posts)
4. I'm 20-25 mins from Shelbyville. It's a "sleepy little country town"
surrounded by farms and rural areas.

If I was a betting man, I'd say that Antifa and BLM do not have the balls to show up in rural America...especially in TN. Their safe space is in urban areas.

The locals won't think much of the "rally", "march", or whatever these asshats are doing because they all pretty much believe it's their right to do so. But if opposing groups want show up and start violence like they like to do then the locals will view it as a group trying to shut down the 1st amendment and will take the side of the 1st amendment.

It's a quiet 2 lane highway drive through the country from my place down to Shelbyville, can't say that I ever venture down to Shelbyville for anything other than passing through on the occasional trip to the Jack Danial's Distillery every other year or so when family is in town staying in our gust house and wanting to take the tour.


---
Response to Agent_86 (Original post)
Thu Oct 12, 2017, 02:10 PM
Squeek (8,695 posts)
5. The best strategy
for dealing with clowns like these is, IMO, to just ignore them.

Seems to me that on some level they might be looking for a fight. Don't give 'em one.

The sooner they get done marching around like fools, the sooner they'll pack up and leave.