Tue Mar 13, 2018, 01:09 AM
Badsamm (12,726 posts)
Hillary, you sloppy drunk. Video of her almost falling twice
8 replies, 322 views
Replies to this discussion thread
| | | | |
| --- | --- | --- | --- |
| 8 replies | Author | Time | Post |
| Hillary, you sloppy drunk. Video of her almost falling twice (Original post) | Badsamm | Mar 2018 | OP |
| | Model10RB | Mar 2018 | #1 |
| | oflguy | Mar 2018 | #2 |
| | PapasOldShoe | Mar 2018 | #3 |
| | Model10RB | Mar 2018 | #7 |
| | PapasOldShoe | Mar 2018 | #8 |
| | Valishin | Mar 2018 | #4 |
| | southernwriter | Mar 2018 | #5 |
| | Badsamm | Mar 2018 | #6 |
---
Response to Badsamm (Original post)
Tue Mar 13, 2018, 05:35 AM
Model10RB (4,380 posts)
1. Those steps are not up to modern code.
It looks like an ancient pyramid. Really old and beat up steps.

At that incline they would be considered a ladder by modern standards.

And chipped and uneven. She gets a pass IMO.
---
Response to Model10RB (Reply #1)
Tue Mar 13, 2018, 08:31 AM
oflguy (15,649 posts)
2. I noticed the two people carrying her down the steps were ok with them
Not to worry. That fat azz will cushion any fall.
---
Response to Model10RB (Reply #1)
Tue Mar 13, 2018, 10:03 AM
PapasOldShoe (889 posts)
3. And for some reason the soles of her shoes were apparently extra slippery.
They looked like comfy old shoes with the treads worn bare. She had the sense (finally) to eject them and continue on in non-slippery stable bare feet.

I performed a manoever much like her mishap here in the supermarket on Sunday. Some jerk had spilled a cup of coffee by the corner of a produce table and just left it there, and as I rounded the table and stepped on the unseen water hazard my foot went out in front of me just like Clinton's, bending my knee backwards but luckily I was able to grab the table rather than smash my cranium on it or the floor. And luckily I didn't dislocate my shoulder when I did that as I once did when I tripped on something left carelessly in a doorway by a plumber and grabbed for the nearest thing to avoid a faceplant.

Anybody with a phone might have me immortalized on youtube by now as the drunken old codger who needs attendants to buy tomatoes.


---
Response to PapasOldShoe (Reply #3)
Tue Mar 13, 2018, 04:32 PM
Model10RB (4,380 posts)
7. I got you something for next time....
Seriously, slip and fall is a major concern in public areas.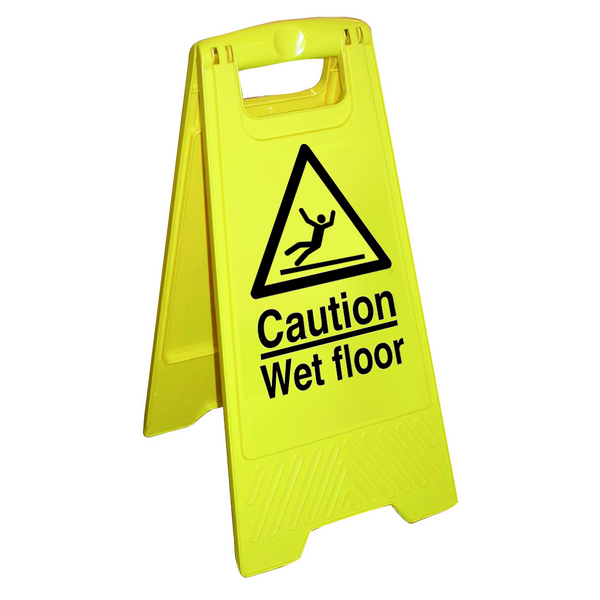 ---
Response to Model10RB (Reply #7)
Tue Mar 13, 2018, 09:05 PM
PapasOldShoe (889 posts)
8. It finally appeared.
First I hailed a young man a couple of aisles away who was determined not to come to where I was and bent on telling me he knew nothing about produce. That was good because I was hailing him over a slip hazard. He mumbled a while and then started pushing his trolley wherever he was already on his way to, leaving the coffee where it was, unguarded. I mean he could have parked his trolley over it and gone somewhere to get something to fix it or tell somebody or something.
So then a somewhat older woman employee passed by and they seemed to speak, but she didn't look at the coffee. So I hailed her, and followed her hailing her, and took her back to the coffee. Somebody spilled their coffee she said. Um hmm. I then left it in her capable hands and when I looked back from mid produce section in a couple of minutes there indeed was the very thing you have offered.
I should have asked to see the security film to see who the complete jerk was who spilled half a cup of coffee on the floor and just kept on going, and tracked them down and punched them (since the coffee was spilled on the way into the store, I should have been able to find them still). Ah revenge fantasies. And adults who take no responsibility for their actions. Unless there was a 5 year old carrying a cup of coffee around. Might as well have been..........
I usually manage to slip and fall all by myself, don't really need any help
---
Response to Badsamm (Original post)
Tue Mar 13, 2018, 11:35 AM
Valishin (8,640 posts)
4. As I pointed out
in the other thread. Both points that she stepped on were visibly damaged and were points the others didn't step on. So ya she is over weight and her knees and ankles probably not as strong as they could be to compensate but this is not a drunken stupor.

Doesn't mean she doesn't have drunken stupor from time to time just that this isn't evidence of one.
---
Response to Badsamm (Original post)
Tue Mar 13, 2018, 11:39 AM
southernwriter (3,594 posts)
5. Only a rotten person laughs at a person's falling.
---
Response to southernwriter (Reply #5)
Tue Mar 13, 2018, 01:32 PM
Badsamm (12,726 posts)
6. Anyone defending a mass murderer is an accomplice