Wed Mar 28, 2018, 04:36 PM
Gunslinger201 (47,586 posts)
Unconfirmed-Congress Being Briefed FBI Covered up Las Vegas Shooter/ISIS Link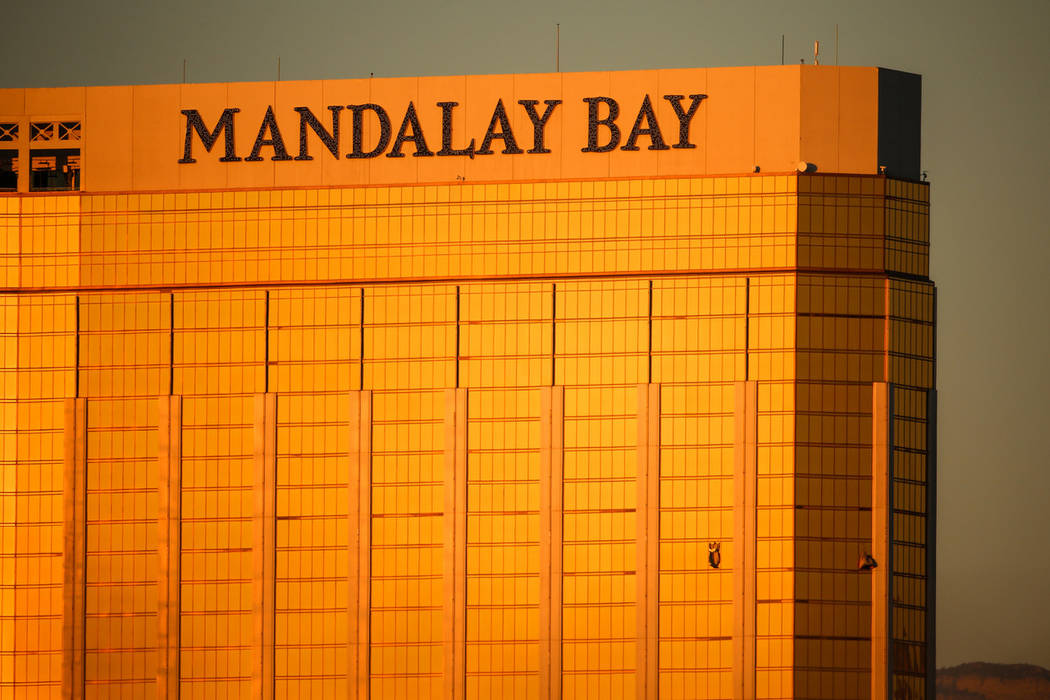 The "official" narrative you've been fed by the FBI and Las Vegas officials about the massacre at Mandalay Bay that claimed 58 lives is purely fiction, a polished story contrived to cover up the disturbing facts surrounding the worst mass shooting ever in the United States, according the FBI insiders and high-ranking intelligence officials.
And now, after months of corporate-infused spin by MGM Resorts and outright lies from officials in the FBI and the Las Vegas Metro Police Department, federal agents and intelligence officials are spilling the beans about what really happened on and before the Oct. 1 massacre.
"It's a movie script that was written after the shooting to rewrite what really happened," one FBI agent said. "The investigation is an entirely different story that we are not allowed to talk about. If we do and get caught, we get fired and probably charged (criminally)."
But why the cover up?
The answer to that is perhaps even more complicated than the revelations surrounding the shooting, which can only be explained as shocking and troubling to everyday Americans not connected to the law enforcement community and political machine that has become today's FBI. While few if any bright Americans believed the official back story of the supposed Stephen Paddock rampage, the truth — it turns out — is even more bizarre than fiction here.
In fact, it's downright frightening.
The FBI maintains that Stephen Paddock — the reported lone gunman — was a mystery man and his motive for killing dozens and injuring over 500 people still has not been pinpointed. Those assertions are simply untrue, FBI officials confirm. Lies. In the coming weeks, True Pundit will detail various parts of its investigation into the shooting and more importantly, paint a detailed portrait of the events leading to the shooting and Paddock's likely accomplices and associates.
The major, shocking revelations include:
When FBI brass was provided with forensic evidence of multiple gunmen, they told agents to stand down and focus on Paddock only. Even a key internal audio captured by a hotel guest of multiple rifles firing from Mandalay Bay went ignored, covered up.
When FBI brass was provided the names of persons of interest who likely assisted Paddock, agents were instructed not to interview the individuals. One would-be target was never pursued despite pleadings from intelligence officials and agents that he was possibly the second shooter.
The FBI uncovered specific evidence showing that Paddock was anti-Trump and had an affiliation with ANTIFA, though it never was divulged to the public and agents did not follow such leads, per orders of their superiors.
When FBI brass was given evidence that the shooting was possibly linked to ANTIFA radicals working with an ISIS-linked terror faction — including the full identities of some of the suspects with ties to both radical groups and at or near Mandalay Bay the night of the deadly shooting — agents were never instructed to follow up on the investigation and pursue the suspects.
When intelligence officials approached the FBI and LVMPD with external evidence that Paddock was only one member of an organized terror cell — which included as many as five gunman who planned to fire from the Mandalay Bay suite — the compelling evidence was covered up. Never pursued.
When FBI brass was provided with forensic evidence that Paddock's death was not a suicide, the intelligence was never pursued by the FBI and LVMPD. FBI sources said Paddock suffered two gunshots. His autopsy report only details a single bullet to the head. FBI sources maintain Paddock's autopsy was doctored and is a fraud.
When an ISIS-linked "businessman" from Turkey was pinpointed in the investigation — and found to be residing near Las Vegas at the time of the shooting — FBI agents were not instructed to follow up and pursue intelligence leads showing possible links to the massacre.
FBI and intelligence officials believe Paddock and associates chose to strike the Las Vegas country music concert with over 22,000 people because they likely supported President Trump. FBI agents said they were instructed to keep that key motive quiet too.
When MGM refused to share cctv footage from Mandalay Bay, FBI agents were threatened by superiors that any whistle blowers divulging such revelations to the media would lose their jobs. The FBI still has never been provided all the camera footage from the Mandalay Bay, FBI agents said.
When FBI agents and agents from the Bureau of Alcohol, Tobacco, Firearms and Explosives informed FBI bosses that Paddock didn't start buying dozens of guns until after Trump's election, they were told to keep that fact quiet and shrouded.
When FBI agents followed up on an ABC News report that Paddock wired $100,000 to the Philippines shortly before the rampage they confirmed the report was untrue. Instead of disputing it, FBI bosses embraced the false story, saying it helped build the narrative the Bureau was constructing about Paddock. FBI agents believe the story was planted with ABC by their superiors.
https://truepundit.com/fbi-insiders-blow-whistle-massive-las-vegas-cover-agents-told-not-investigate-key-evidence-including-isis-terror-link-mandalay-bay-massacre/
All this time and no Theory as to Motive?
11 replies, 598 views
Replies to this discussion thread
| | | | |
| --- | --- | --- | --- |
| 11 replies | Author | Time | Post |
| Unconfirmed-Congress Being Briefed FBI Covered up Las Vegas Shooter/ISIS Link (Original post) | Gunslinger201 | Mar 2018 | OP |
| | RCW2014 | Mar 2018 | #1 |
| | Gunslinger201 | Mar 2018 | #2 |
| | Red Bull | Mar 2018 | #3 |
| | RCW2014 | Mar 2018 | #4 |
| | Jack Burton | Mar 2018 | #10 |
| | foia | Mar 2018 | #5 |
| | Ilovestx | Mar 2018 | #6 |
| | Gunslinger201 | Mar 2018 | #7 |
| | joefriday6 | Mar 2018 | #11 |
| | Daves Not Here Man | Mar 2018 | #8 |
| | HerasHeaddress | Mar 2018 | #9 |
---
Response to Gunslinger201 (Original post)
Wed Mar 28, 2018, 04:41 PM
RCW2014 (23,184 posts)
1. I've said from day one that there were 2 shooters just because of the fact that 2 windows were
---
Response to RCW2014 (Reply #1)
Wed Mar 28, 2018, 04:46 PM
Gunslinger201 (47,586 posts)
2. Either the FBI have become total incompetents or
The Middle Management are serving someone other than the American Public
---
Response to Gunslinger201 (Reply #2)
Wed Mar 28, 2018, 04:56 PM
Red Bull (5,249 posts)
3. I do not trust
Our government period, end of story. This is why I would never register or turn in my guns.
---
Response to Red Bull (Reply #3)
Wed Mar 28, 2018, 05:01 PM
RCW2014 (23,184 posts)
4. This we agree on, indeed. nt
---
Response to Red Bull (Reply #3)
Thu Mar 29, 2018, 10:25 AM
Jack Burton (14,194 posts)
10. Agreed.
It takes a government to commit genocide. Any government can turn bad in a very short time.
---
Response to Gunslinger201 (Original post)
Wed Mar 28, 2018, 05:53 PM
foia (17,182 posts)
5. It'll be interesting to see how this plays out
I'm generally not one to buy into CTs but not being able to find a motive for a mass shooting such as this does strike me as VERY peculiar.
---
Response to Gunslinger201 (Original post)
Wed Mar 28, 2018, 05:57 PM
Ilovestx (4,470 posts)
6. If it is on True Pundit you KNOW it is true! I wonder what Alex Jones has to say about it?
---
Response to Ilovestx (Reply #6)
Wed Mar 28, 2018, 06:23 PM
Gunslinger201 (47,586 posts)
7. I said unconfirmed However
The FBI Inspector General is starting to move on FBI Bad Actors (like McCabe). We will see what is to come of it
---
Response to Gunslinger201 (Reply #7)
Thu Mar 29, 2018, 10:35 AM
joefriday6 (13,386 posts)
11. I am not certain anything will come of it. The bigger picture as is becoming more and more apparent
is that virtually everything is corrupt...thanks to predominantly the Liberals. I'm starting to wonder if there is some truth to the belief we are all part of some alien dream.
---
Response to Gunslinger201 (Original post)
Wed Mar 28, 2018, 06:46 PM
Daves Not Here Man (21,338 posts)
8. Oh lord, you guys...
---
Response to Daves Not Here Man (Reply #8)
Thu Mar 29, 2018, 05:35 AM
HerasHeaddress (5,584 posts)
9. Sometimes it's pure CT
and sometimes it isn't. If you've ever had dealings with these alphabet agencies nothing would surprise you.