Sun May 12, 2019, 11:59 PM
RCW2014 (26,585 posts)
Pentagon Will Pull Money from Ballistic Missile and Surveillance Plane Programs to Fund Border Wall
Pentagon will pull money from ballistic missile and surveillance plane programs to fund border wall
By Dan Lamothe May 12 at 1:56 PM
The Pentagon will shift $1.5 billion for President Trump's border wall from programs that include the military's next nuclear intercontinental ballistic missile and a plane that provides surveillance and communications to fighter jets while airborne, according to a Defense Department document obtained by The Washington Post.
The document includes more details about the administration's plan, disclosed Friday, to build about 80 additional miles of border wall using Defense Department money. The document echoes acting defense secretary Patrick M. Shanahan in saying that there will be no negative effect on military readiness, though administration officials have previously acknowledged that reprogrammed money also could be put toward other unfunded military projects.
"The Department carefully selected sources for the reprogramming that are excess or early to need and will not adversely affect military preparedness," the document said.
The reprogramming has angered Democratic lawmakers, who say it amounts to the administration sidestepping congressional authority to pay for a Trump campaign promise. The Pentagon has justified the reprogramming for the border wall by shifting the funding to a Defense Department counterdrug effort.
"We look forward to hearing your views on how you intend to repair the damaged relationship between the defense oversight committees and the Department," several Democratic senators, including Patrick J. Leahy (Vt.), Jack Reed (R.I.) and Richard J. Durbin (Ill.), wrote in a letter to the Pentagon on Friday.
more...
https://www.washingtonpost.com/national-security/2019/05/12/pentagon-will-pull-money-ballistic-missile-surveillance-plane-programs-fund-border-wall/?noredirect=on&utm_term=.f639f12b0a0e
Cut the billions of foreign aid to israel, egypt and the rest of the shithole scaps of land in the ME, then we will be getting somewhere...
7 replies, 234 views
Replies to this discussion thread
| | | | |
| --- | --- | --- | --- |
| 7 replies | Author | Time | Post |
| Pentagon Will Pull Money from Ballistic Missile and Surveillance Plane Programs to Fund Border Wall (Original post) | RCW2014 | May 2019 | OP |
| | Da Mannn | May 2019 | #1 |
| | oldenuff35 | May 2019 | #2 |
| | Gunslinger201 | May 2019 | #3 |
| | His Daughter | May 2019 | #4 |
| | RCW2014 | May 2019 | #5 |
| | His Daughter | May 2019 | #6 |
| | Badsamm | May 2019 | #7 |
---
Response to RCW2014 (Original post)
Mon May 13, 2019, 12:29 AM
Da Mannn (31,192 posts)
1. WaPo. Famous for fake news and outright lies.
of course the first thing RC wants to do is cut aid to Israel. Figures.
---
Response to Da Mannn (Reply #1)
Mon May 13, 2019, 01:24 AM
oldenuff35 (25,538 posts)
2. And they have a water boy in here who loves to carry and spread their lies.
---
Response to RCW2014 (Original post)
Mon May 13, 2019, 02:54 AM
Gunslinger201 (50,899 posts)
3. If protecting the Country's Border isn't a Military Mission
What is?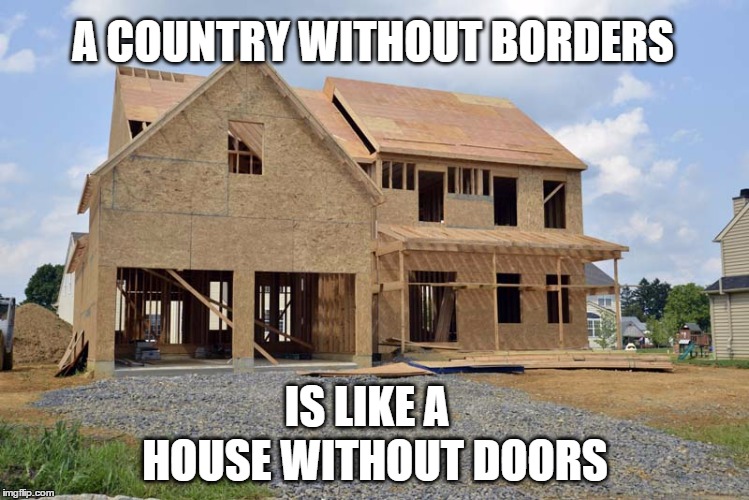 ---
Response to RCW2014 (Original post)
Mon May 13, 2019, 12:34 PM
His Daughter (16,911 posts)
4. Disingenuous Title
The executive branch is using its lawful authority granted by Congress to reprogram money at its discretion.

Compare this to the Obama's administration illegally spending money on the ACA.
---
Response to His Daughter (Reply #4)
Mon May 13, 2019, 12:40 PM
RCW2014 (26,585 posts)
5. There is nothing in the title that suggests it isn't "lawful"... nt
---
Response to RCW2014 (Reply #5)
Mon May 13, 2019, 12:43 PM
His Daughter (16,911 posts)
6. This was not a Pentagon decision...it was made higher up
The Pentagon did not willy nilly decide to offer up funding for the border. It was directed to find the money and did.
---
Response to RCW2014 (Original post)
Mon May 13, 2019, 12:53 PM
Badsamm (16,355 posts)
7. Sounds like a great idea. No borders, no country
https://pmatep5f7b.execute-api.us-east-1.amazonaws.com/ProdStage