Wed Jul 31, 2019, 04:07 PM
RCW2014 (23,227 posts)
On Costliest U.S. Warship Ever, Navy Can't Get Munitions on Deck
(Bloomberg) -- Only two of 11 elevators needed to lift munitions to the deck of the U.S. Navy's new $13 billion aircraft carrier have been installed, according to a Navy veteran who serves on a key House committee.
"I don't see an end in sight right now" to getting all the elevators working on the USS Gerald R. Ford, the costliest warship ever, Democratic Representative Elaine Luria of Virginia said in an interview. The ship was supposed to be delivered with the Advanced Weapons Elevators, which are moved by magnets rather than cables, working in May 2017.
It's another setback for contractor Huntington Ingalls Industries Inc. -- and for the Navy, which had said in December it planned to complete installation and testing of all 11 elevators before the Ford completed its post-delivery shakedown phase this month, with at least half certified for operation.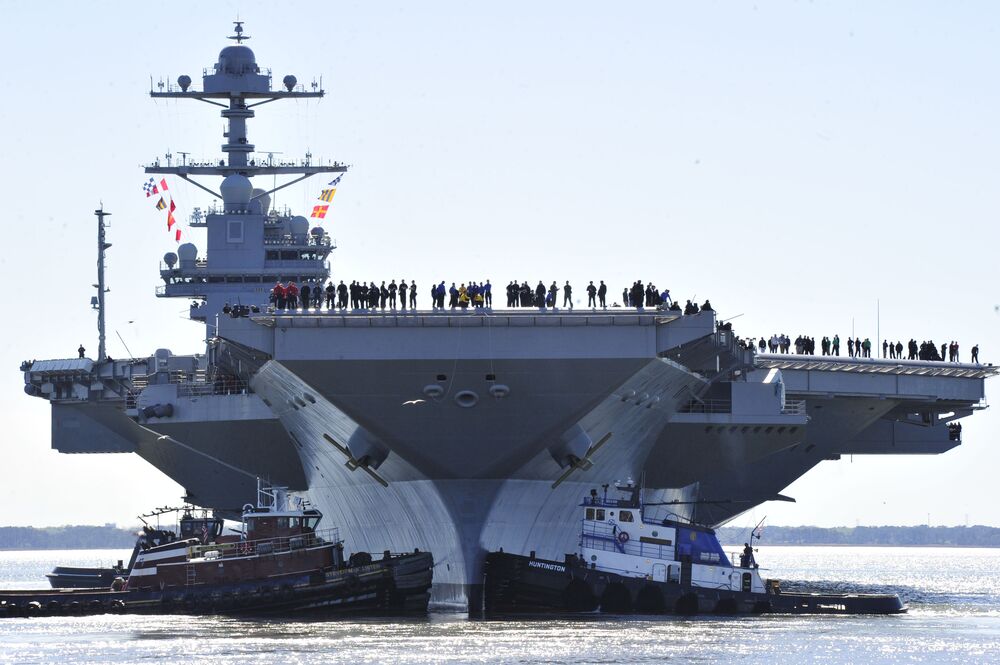 © Getty Images USS Gerald R. Ford Begins Builder's Sea Trials
The USS Gerald R. Ford sea trials off the U.S. East Coast.
Instead, the shakedown phase has been extended to October and the vessel won't have all the elevators installed -- much less functioning -- by then, according to Luria, a 20-year Navy surface warfare officer whose served on two aircraft carriers and as shore maintenance coordinator for a third.
"Essentially, the ship can't deploy," Luria said. "It can't carry ammunition." She said the Navy and Huntington Ingalls are trying to solve new problems with doors and hatches lining elevators shafts that don't meet specifications.
Navy Secretary Richard Spencer, who's currently filling in as acting deputy defense secretary, said in January that he told President Donald Trump to fire him if the service couldn't fix the weapons elevators by July. Instead, Trump praised the Ford as "phenomenal" on July 22.
MORE...
https://www.msn.com/en-us/money/companies/flawed-elevators-on-13-billion-carrier-miss-another-deadline/ar-AAF3Gjh
4 replies, 235 views
Replies to this discussion thread
| | | | |
| --- | --- | --- | --- |
| 4 replies | Author | Time | Post |
| On Costliest U.S. Warship Ever, Navy Can't Get Munitions on Deck (Original post) | RCW2014 | Jul 2019 | OP |
| | rahtruelies | Jul 2019 | #1 |
| | AmandaCMatthews | Jul 2019 | #2 |
| | RCW2014 | Jul 2019 | #3 |
| | orson | Jul 2019 | #4 |
---
Response to RCW2014 (Original post)
Wed Jul 31, 2019, 04:15 PM
rahtruelies (16,680 posts)
1. faux news alert
---
Response to RCW2014 (Original post)
Wed Jul 31, 2019, 05:13 PM
AmandaCMatthews (3,110 posts)
2. Whats the big deal? The US is into throwing money
---
Response to AmandaCMatthews (Reply #2)
Wed Jul 31, 2019, 06:04 PM
RCW2014 (23,227 posts)
3. Ahhh but the Wall Street moneychangers are grinning like opossums eating scat.
I believe the US couldn't win a real "world war" with our current conventional forces.

Would be forced to go nuclear then the planet could start all over again..
---
Response to RCW2014 (Original post)
Wed Jul 31, 2019, 06:14 PM
orson (11,098 posts)
4. Naming an aircraft carrier for a president who couldn't
walk and chew gum was probably just asking for bad juju.