Wed Oct 9, 2019, 07:11 PM
RCW2014 (26,585 posts)
Robin Hood in reverse: US billionaires paid lower tax rates than working class in 2018 in latest blo
Robin Hood in reverse: US billionaires paid lower tax rates than working class in 2018 in latest blow to capitalism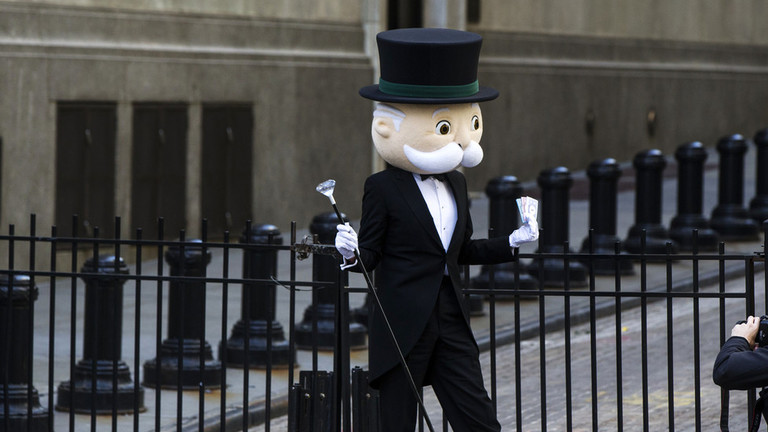 9 Oct, 2019 19:01 / Updated 4 hours ago
American billionaires have never had it so good – they're actually paying a lower tax rate than the working class, according to two economists exposing the real beneficiaries of a system that has redistributed wealth to the top.
The 400 wealthiest families in the US paid a lower effective tax rate than working class families for the first time last year, economists Emmanuel Saez and Gabriel Zucman of the University of California at Berkeley have claimed in their forthcoming book 'The Triumph of Injustice'.
Billionaires, they say, were taxed at 23 percent, while working class families were taxed at 24.2 percent. Their calculations take into account state, local, and federal taxes, corporate taxes, and what the pair call "indirect taxes," encompassing licenses and other fees paid to government.
While American income inequality was already considered to be at peak levels, Saez and Zucman cite the 2017 tax cuts that primarily benefited the rich and Big Business as the "tipping point" that has made the degree of inequality impossible to ignore – or allow to continue.
Decades of "trickle-down" economic policies, driven by economists who believed easing the tax burden on wealthy "job creators" would improve the fortunes of even the poorest citizens, have reduced the tax rate on the wealthiest Americans from 70 percent in 1950 to just over one-third of that.
More...
https://www.rt.com/usa/470563-billionaires-paid-less-taxes-inequality/
5 replies, 210 views
Replies to this discussion thread
| | | | |
| --- | --- | --- | --- |
| 5 replies | Author | Time | Post |
| Robin Hood in reverse: US billionaires paid lower tax rates than working class in 2018 in latest blo (Original post) | RCW2014 | Oct 2019 | OP |
| | DDKick | Oct 2019 | #1 |
| | oldenuff35 | Oct 2019 | #2 |
| | Steelydamned | Oct 2019 | #3 |
| | Bob the Bilderberger | Oct 2019 | #4 |
| | Ax Crazy | Oct 2019 | #5 |
---
Response to RCW2014 (Original post)
Wed Oct 9, 2019, 07:16 PM
DDKick (10,176 posts)
1. Flat tax fixes these problem.
Government doesn't like simple effective solutions for anything.

The tax laws are a joke in America. Written by rich politicians to have loopholes. Flat consumption tax makes sense. We already do it at the retail level there is no excuse for income being taxed.
---
Response to RCW2014 (Original post)
Wed Oct 9, 2019, 07:28 PM
oldenuff35 (25,540 posts)
2. Taxes are paid on income, not total wealth. A billionaire with no income that year pays $0.
So your terms do not add up to reality.
---
Response to RCW2014 (Original post)
Wed Oct 9, 2019, 07:29 PM
Steelydamned (4,506 posts)
3. How did....
...these "economists" get the income tax returns for all these wealthy families from which they've derived these percentages?
I'll add they then go on to extol the virtues of the wealth tax bring pushed by Sanders and Warren....which seems awfully convenient
---
Response to RCW2014 (Original post)
Wed Oct 9, 2019, 07:44 PM
Bob the Bilderberger (5,781 posts)
4. Trump paid 25%. I paid 7.6%
When Rachel Maddow discovered and then disclosed Donald Trump's 2005 tax returns, we learned that he paid $38 million in federal income tax on about $150 million in income. That's a 25% effective tax rate. I checked my return for last year and I paid 7.6% on something less than what Trump earned. So he not only paid about $38 million more in taxes than I did, but he paid three times the tax RATE than I did.

I've never been a fan of Marx' progressive tax system because it's not fair. With a flat tax of say, 10%, the more you make the more you pay. People making 100,000 a year would pay $10,000, while a person making $50,000 would pay half that, or $5,000. Paying an increasing rate as your income increases is overkill and unfair.

If the purpose of taxation is to pay for the cost of government, then paying a certain percentage of your income is certainly a way to do it. I actually favor a consumption tax instead of an income tax which is a tax on labor. When the government tried to impose an income tax to pay for the Civil War, the Supreme Court of 1861 ruled it unconstitutional.

But eventually the envious collectivists came to power and professors can now write about how unfair it would be if everyone paid the same percentage of their income to pay for the cost of government.

People who favor of a graduated or progressive tax system have a social engineering objective rather than simply paying for the costs of government.
---
Response to RCW2014 (Original post)
Wed Oct 9, 2019, 10:20 PM
Ax Crazy (2,252 posts)
5. So what you're saying is that the middle class are due a tax cut?
https://pmatep5f7b.execute-api.us-east-1.amazonaws.com/ProdStage