Fri Oct 14, 2016, 11:59 AM
Dexter Morgan (26,483 posts)
Not from the "Onion".Clinton, in California, Slams Trump for 'Sexually Predatory' Behavior
SIGN UP FOR OUR NEWSLETTER
Democratic presidential nominee Hillary Clinton slammed Republican rival Donald Trump for what she called "sexually predatory" behavior during a fundraising trip to California, which included events in Los Angeles and San Francisco on Thursday, as well as a surprise visit to a San Francisco campaign office, the San Francisco Chronicle reports.
The former Secretary of State, whose husband's own "sexually predatory" habits are a matter of public record, sought to tarnish Trump, praising Michelle Obama's speech Thursday in New Hampshire, in which the current First Lady became emotional as she described her negative reaction to Trump's recently-exposed comments on a 2005 Access Hollywood video in which he joked about groping women.
(As numerous critics pointed out, the Obamas frequently heard similar comments from the hip-hop artists whom they have fêted at the White House, whose lyrics feature frequent mysogyny and sexual references.)
"We cannot let this pessimism, this dark and divisive and dangerous vision of America, take hold in anybody's heart," said Hillary Clinton, according to the Chronicle.
The Chronicle also reported the presence of a small number of pro-Donald Trump protesters outside her fundraiser in San Francisco, including an immigrant from India who praised Trump and rejected the latest scandal:
http://www.breitbart.com/california/2016/10/14/clinton-california-slams-trump-sexually-predatory-behavior/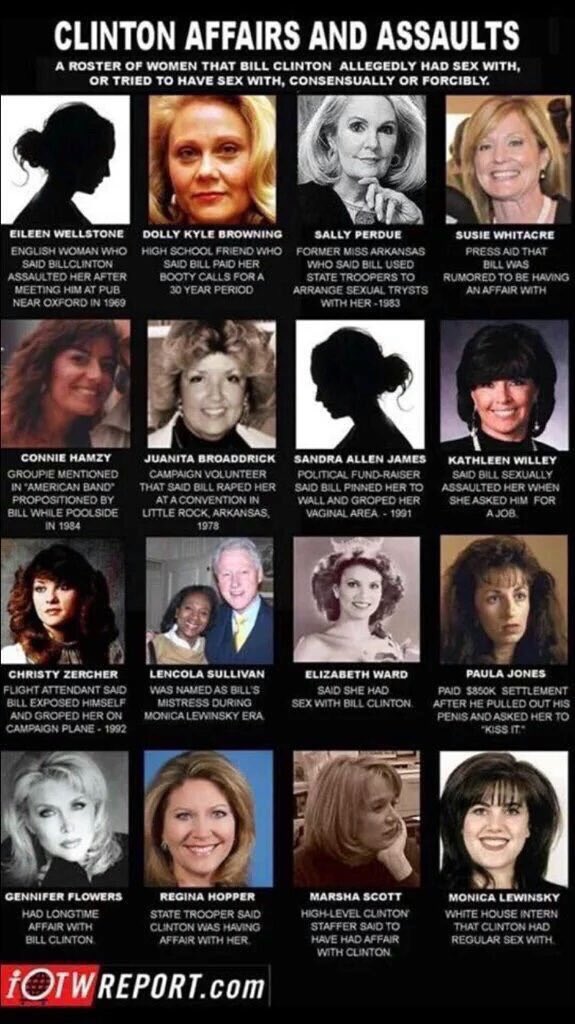 9 replies, 1426 views
Replies to this discussion thread
| | | | |
| --- | --- | --- | --- |
| 9 replies | Author | Time | Post |
| Not from the "Onion".Clinton, in California, Slams Trump for 'Sexually Predatory' Behavior (Original post) | Dexter Morgan | Oct 2016 | OP |
| | Grumpy Pickle | Oct 2016 | #1 |
| | Muddling Through | Oct 2016 | #3 |
| | Dexter Morgan | Oct 2016 | #4 |
| | FreeWheelBurning | Oct 2016 | #5 |
| | Gunslinger201 | Oct 2016 | #2 |
| | frankt8242 | Oct 2016 | #6 |
| | Dexter Morgan | Oct 2016 | #7 |
| | U.S.Awesome | Oct 2016 | #8 |
| | RolandLePreux | Oct 2016 | #9 |
---
Response to Dexter Morgan (Original post)
Fri Oct 14, 2016, 12:01 PM
Grumpy Pickle (29,092 posts)
1. Does she realize that she`s MARRIED to a sexual predator ?
People that live in glass houses shouldn`t throw rocks, Cankles.
---
Response to Grumpy Pickle (Reply #1)
Fri Oct 14, 2016, 12:17 PM
Muddling Through (18,579 posts)
3. I believe rocks
are just one of many things on a long list of items HILLARY!!!!!!!!>>>>>>>>>> has thrown.............
---
Response to Grumpy Pickle (Reply #1)
Fri Oct 14, 2016, 12:18 PM
Dexter Morgan (26,483 posts)
4. She knows she is but i presume her supporters either don't know or don't care...
How can you say that with a straight face though?
It's that whole double standard thingy with democrats "yeah but he was never found guilty" and of course Trump is guilty do you think all those women are lying?
---
Response to Dexter Morgan (Reply #4)
Fri Oct 14, 2016, 12:21 PM
FreeWheelBurning (5,305 posts)
5. Nobody will change their minds at this point.
Bill's behavior is a matter of public record. Everyone who lived through those years formed their opinions on the matter years ago. The younger millennial voters who only know about those events through the current campaign are the only ones who may be swayed one way or the other.
---
Response to Dexter Morgan (Original post)
Fri Oct 14, 2016, 12:07 PM
Gunslinger201 (46,470 posts)
2. Pot calling the Kettle African-American
---
Response to Dexter Morgan (Original post)
Fri Oct 14, 2016, 01:41 PM
frankt8242 (14,397 posts)
6. When will you finally learn...
These pitiful "Yo Momma" posts are a waste of time...??
Tell me about the CURRENT POTUS candidates sexual dalliances, not her husbands..
HE'S NOT RUNNING...!!!!
---
Response to frankt8242 (Reply #6)
Fri Oct 14, 2016, 01:52 PM
Dexter Morgan (26,483 posts)
7. Actually honey it is pointing out the hypocrisy of democrat voters...
Democrats did not give a shit about Bill's sexcapades yet suddenly they care about Trumps.....
It is called double standards..
McCain to old Hillary not,Romney 1%er Kerry not,does it hurt your back all that pretzel logic?
---
Response to frankt8242 (Reply #6)
Fri Oct 14, 2016, 02:13 PM
U.S.Awesome (5,614 posts)
8. "HE'S NOT RUNNING"
Yes he is. They are a package, no matter how much you cry and slap yourself in the forehead, Slappy.
---
Response to frankt8242 (Reply #6)
Fri Oct 14, 2016, 02:27 PM
RolandLePreux (2,468 posts)
9. Hillary ran a "war room" to crack down on the "bimbo eruptions"
Last edited Fri Oct 14, 2016, 03:26 PM - Edit history (1)
which is how the women charging her husband of sexual assault and rape were labeled. In an interview on ABC News, Hillary Clinton responded to allegations by Jennifer Flowers of having had a long-term affair with Bill by saying she was "some failed cabaret singer who doesn't even have much of a résumé to fall back on." Hillary Clinton told Esquire magazine in 1992 that if she had the chance to cross-examine Flowers, "I mean, I would crucify her." Under oath in the Paula Jones case, Bill finally admitted to having had sex with Flowers. Hillary never apologized to her for the ugly things she said. After Juanita Brodderick alleged that she was raped by Bill Clinton in her hotel room and a nurse named Norma Rogers immediately afterwards treated her bloody mouth and saw her torn pantyhose, Hillary sought her out two weeks later and confronted her. Hillary Clinton called Monica Lewinsky a "narcissistic loony toon" and never apologized after Bill had to admit the sex.. According to Bill Clinton's own aide, George Stephanopoulos in his written memoir, Hillary attacked another one of Bill's accusers named Connie Hamzy. Hillary said "we have to destroy her story," To go after and dig up dirt on Jennifer Flowers, Hillary hired San Francisco private detective Jack Palladino. To go after Monica Lewinsky to undermine her credibility, Hillary hired Los Angeles P.I. Anthony Pelicano. Carl Bernstein documented Hillary's private investigators and their tactics in his book "A Woman In Charge". Bernstein is the famous highly credible investigative journalist of the team of Woodward and Bernstein who reported on the Watergate break-in in 1972 that brought down Richard Nixon.

Sorry, but Hillary in her thirst for power is complicit in her husband's behavior up to her neck.