Wed Oct 10, 2018, 02:10 PM
Gunslinger201 (47,692 posts)
Trump, Declassification, and Leverage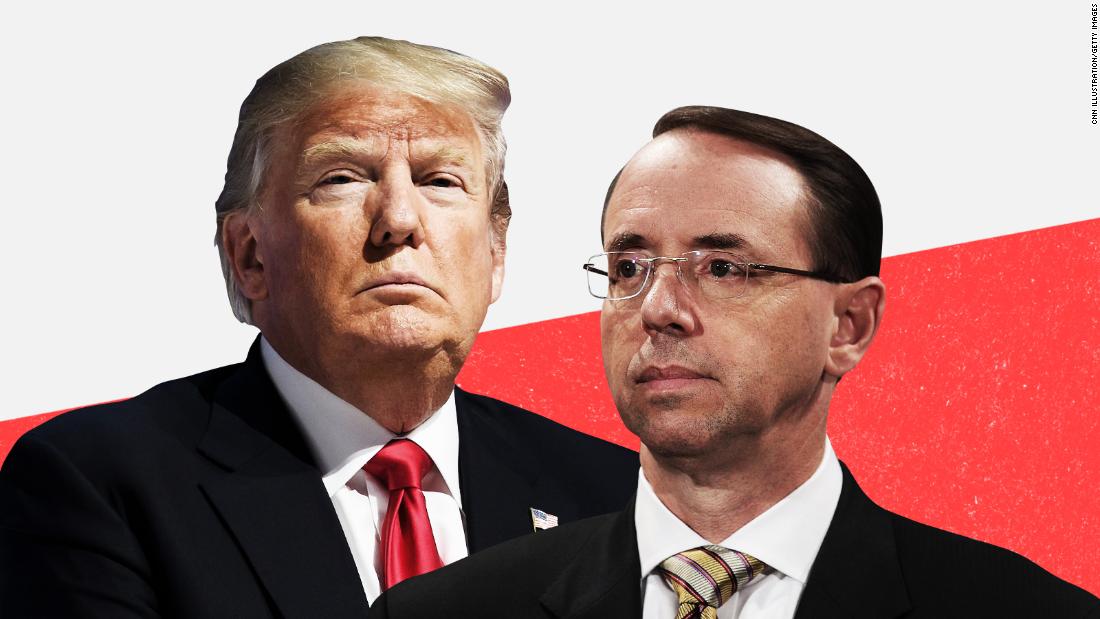 There's a reason why President Trump has not unilaterally declassified the documents exposing perfidy against him: leverage. As the whole Russia hoax is beginning to come into some sort of global perspective – quite literally, as we'll see – the extent of the advantage he now maintains by holding back declassification as a threat outweighs the benefits of transparency. Recent posts by observers who write from widely varying perspectives give us the ability to discern the current state of play.
Let's start with the domestic front of the Russia hoax. Sundance at Conservative Tree House has an excellent post up: "President Trump and DAG Rod Rosenstein – "No Collusion", No Immediate Worries..." The overall theme is one that's dear to Sundance's heart: leverage. The state of play is this: the congressional investigation has progressed to the point that it's clear beyond cavil that the entire Russia narrative is, in fact, a hoax and fraud – both on the American people in general and on our legal system. This is to say real criminal liability exists for the key players who developed the plot against Trump. John Solomon summarizes what Congress has discovered in succinct fashion:
There is now a concrete storyline backed by irrefutable evidence: The FBI allowed itself to take political opposition research created by one party to defeat another in an election, treated it like actionable intelligence, presented it to the court as substantiated, and then used it to justify spying on an adviser for the campaign of that party's duly chosen nominee for president in the final days of a presidential election.
And when, nine months later, the FBI could not prove the allegation of collusion between Trump and Russia, unverified evidence was leaked to the media to try to sustain public support for a continued investigation.
But Sundance spells out very specifically where the greatest risk – and therefore the greatest leverage – lies:
Deputy Attorney General Rod Rosenstein created the special counsel under fraudulent pretense. That origination material (Ohr 302's, FISA pages, origination EC, and Page/Strzok messages) is now a risk to the Deputy AG.
There are many other players, in addition to Rosenstein, who are at serious risk. But from the perspective of leverage, Rosenstein is the key because he created the special counsel part of the hoax and because – as a result of A.G. Sessions's recusal – he remains in charge of the special counsel operation. Rosenstein can exercise as much or as little control over Mueller as he wants. Trump's threat of declassification of the "origination material" gives Trump complete leverage over Rosenstein and therefore over Mueller.
Trump's leverage ensures that Rosenstein will very much want to restrain Mueller. If Rosenstein wants to restrain Mueller, Mueller will be restrained. This may explain why we are now seeing key members of Mueller's team leaving and returning to their old jobs. The importance of this is that Mueller has posed the greatest threat to the Trump administration, the greatest annoyance. That threat is now defanged for the immediate future. If Mueller steps out of line, boom! Declassification. By putting declassification on hold, Trump maintains his leverage. And Congress continues to investigate and slowly reveal the truth.
https://www.americanthinker.com/articles/2018/10/trump_declassification_and_leverage.html
Don't expect anything from Mueller to implicate Trump, Rosenstein and Mueller both been Neutered
9 replies, 317 views
Replies to this discussion thread
| | | | |
| --- | --- | --- | --- |
| 9 replies | Author | Time | Post |
| Trump, Declassification, and Leverage (Original post) | Gunslinger201 | Oct 2018 | OP |
| | GoldwatersSoul | Oct 2018 | #1 |
| | batcat | Oct 2018 | #2 |
| | Gunslinger201 | Oct 2018 | #3 |
| | batcat | Oct 2018 | #4 |
| | rahtruelies | Oct 2018 | #5 |
| | myohmy | Oct 2018 | #6 |
| | foia | Oct 2018 | #7 |
| | Red Bull | Oct 2018 | #8 |
| | nolidad | Oct 2018 | #9 |
---
Response to Gunslinger201 (Original post)
Wed Oct 10, 2018, 02:24 PM
GoldwatersSoul (7,558 posts)
1. Couple things left....
first at the end of the investigation heads have to roll like the French Revolution.

Next, congress must eliminate the special counsel law. It has been nothing but a source of chaos.
---
Response to Gunslinger201 (Original post)
Wed Oct 10, 2018, 02:31 PM
batcat (16,896 posts)
2. Trump makes deals. I suspected that when the documents were not released. ...
Hillary never gets indicted because she knows where all the bodies are buried in the Swamp. If she goes down she will take half the Swamp creatures with her.

Now Trump also has that ability. If he goes down he will declassify and force the release of documents that will lead to the prosecution of a good number of Swamp critters possibly including Hillary herself.

Mueller wants to dig and dig until he finds something to charge Trump with. Rod Rosenstein can and will stop that effort.

It's kinda like MAD (mutual assured destruction).
---
Response to batcat (Reply #2)
Wed Oct 10, 2018, 02:33 PM
Gunslinger201 (47,692 posts)
3. I was truly hoping she would be punished
Trust the Plan I suppose

I am sure that was an uncomfortable Air Force One Flight for Rosenstein
---
Response to Gunslinger201 (Reply #3)
Wed Oct 10, 2018, 02:36 PM
batcat (16,896 posts)
4. I imagine it was a bit like the movie The Godfather. ...
---
Response to Gunslinger201 (Reply #3)
Wed Oct 10, 2018, 02:40 PM
rahtruelies (16,680 posts)
5. For the American Republic to survive the Clintons/Obamas/Soros/et al must go to the gallows
---
Response to Gunslinger201 (Original post)
Wed Oct 10, 2018, 02:40 PM
myohmy (4,809 posts)
6. I love that story...
...what else you have?
...
---
Response to myohmy (Reply #6)
Wed Oct 10, 2018, 02:47 PM
foia (17,293 posts)
7. Here's a good fairy tale
Mueller has proof of collusion between the Trump campaign and Russia and the longer he waits to release it the bigger it will be.
On a serious note I am SO looking forward to lefty throwing Mueller under the bus when they realize that their dreams of Trump in cuffs or impeached are dashed. Gonna be an EPIC day over at DU!
---
Response to Gunslinger201 (Original post)
Wed Oct 10, 2018, 02:48 PM
Red Bull (5,272 posts)
8. If true then I am very disappointed
The country does not need a deal brokered on this. They need to see the full scope of all the crimes commited.

If this does not happen then Trump is slapping all of us in the face.
---
Response to Gunslinger201 (Original post)
Wed Oct 10, 2018, 04:03 PM
nolidad (20,401 posts)
9. I think they will need to build a bigger prison!!!!!!