Sun Feb 10, 2019, 11:06 PM
RCW2014 (16,879 posts)
Maduro kicks off Venezuelas most important military drills in history
Published time: 10 Feb, 2019 22:50
Edited time: 11 Feb, 2019 02:31
Venezuelan leader Nicolas Maduro has launched what he described as the 'most important' drills in history, preparing to repel any potential invasion after the US and its allies backed self-proclaimed 'interim president' Guaido.
The drills will last until February 15 and are set to become the largest military exercises the country has held in its 200-year history, President Maduro reiterated, as he arrived at Guaicaipuro Fort in Miranda State.
"We must prepare to defend sovereignty, territorial integrity, independence," the elected head of state proclaimed, apparently fearing that Washington's calls for a regime change and its aggressive backing of opposition parliament speaker Juan Guaido might escalate into a direct military invasion.
Guaido, who proclaimed himself 'interim president' of Venezuela in January and got the immediate blessing of the United States and its allies in Europe and across Latin America, did not rule out that he might have to make a "controversial" decision to "authorize" a "humanitarian" intervention. The Trump administration also said all options remain on the table to rid Venezuelans of the "oppressive dictator" Maduro.
More...
https://www.rt.com/news/451155-maduro-venezuela-historic-military-drills/
5 replies, 125 views
Replies to this discussion thread
| | | | |
| --- | --- | --- | --- |
| 5 replies | Author | Time | Post |
| Maduro kicks off Venezuelas most important military drills in history (Original post) | RCW2014 | Feb 10 | OP |
| | Grumpy Pickle | Feb 11 | #1 |
| | Dexter Morgan | Feb 11 | #2 |
| | oldenuff35 | Feb 11 | #3 |
| | Aquila | Feb 11 | #4 |
| | Charlie Mike | Feb 11 | #5 |
---
Response to RCW2014 (Original post)
Mon Feb 11, 2019, 12:55 AM
Grumpy Pickle (25,650 posts)
1. ...
---
Response to RCW2014 (Original post)
Mon Feb 11, 2019, 01:12 AM
Dexter Morgan (26,482 posts)
2. Cant wait for the lefties to reply..
---
Response to RCW2014 (Original post)
Mon Feb 11, 2019, 01:16 AM
oldenuff35 (21,140 posts)
3. I've always wondered why our intelligence folks did not stop this socialist crap when it started.
One well place bullet then would have stopped a decade plus of hunger and suffering.

Socialism always brings hunger and suffering.
---
Response to RCW2014 (Original post)
Mon Feb 11, 2019, 01:21 AM
Aquila (2,004 posts)
4. What's he supposed to do-sit back and watch while
the war-obsessed psychopaths in the District of Criminals invade his country?
Even the French are resisting (but don't talk about that on DI- they're still re-naming french fries)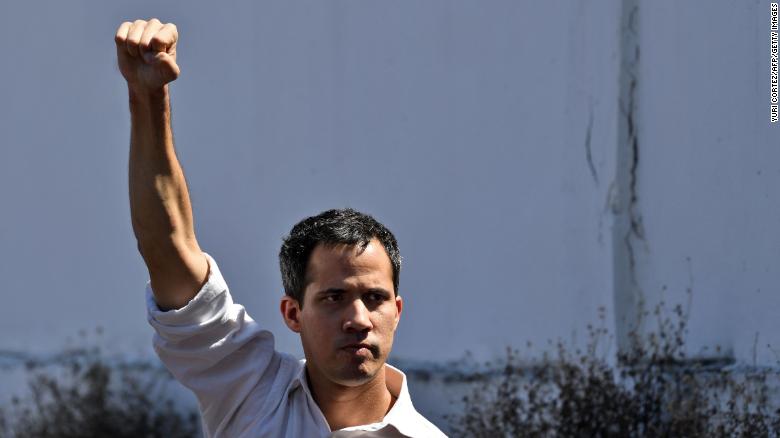 The US is in direct contact with Venezuela's military and urging defections
February 08, 2019
WASHINGTON (Reuters)
The United States is holding direct communications with members of Venezuela's military urging them to abandon President Nicolas Maduro and is also preparing new sanctions aimed at increasing pressure on him, a senior White House official said.
The Trump administration expects further military defections from Maduro's side, the official told Reuters in an interview, despite only a few senior officers having done so since opposition leader Juan Guaido declared himself interim president last month, earning the recognition of the United States and dozens of other countries.
"We believe these to be those first couple pebbles before we start really seeing bigger rocks rolling down the hill," the official said this week, speaking on condition of anonymity. "We're still having conversations with members of the former Maduro regime, with military members, although those conversations are very, very limited."
The official declined to provide details on the discussions or the level at which they are being held, and it was unclear whether such contacts could create cracks in the Venezuelan socialist leader's support from the military, which is pivotal to his grip on power.
With the Venezuelan military still apparently loyal to Maduro, a source in Washington close to the opposition expressed doubts whether the Trump administration has laid enough groundwork to spur a wider mutiny in the ranks where many officers are suspected of benefiting from corruption and drug trafficking.
Members of the South American country's security forces fear they or their families could be targeted by Maduro if they defect, so the U.S. would need to offer them something that could outweigh those concerns, said Eric Farnsworth, vice president of the Council of the Americas think tank in Washington...
https://taskandpurpose.com/us-urging-defections-venezuela-military
JANUARY 23, 2019
National Assembly President Juan Guaido swears himself in as President of Venezuela
https://edition.cnn.com/americas/live-news/venezuela-protests-2019/index.html
Link to tweet
Stop the wars #Tulsi2020
---
Response to Aquila (Reply #4)
Mon Feb 11, 2019, 06:00 AM
Charlie Mike (17,848 posts)
5. "The US is in direct contact with Venezuela's military and urging defections"