Mon May 27, 2019, 05:12 AM
Gunslinger201 (48,389 posts)
Declassified Docs Will Show That Samantha Power's 2016 Unmasking Efforts Were Related to Israel
Government documents that will soon be made public will reveal stunning information about former U.N. ambassador Samantha Power's voluminous unmasking efforts in 2016, according to multiple sources.
On Thursday, President Trump gave Attorney General William Barr the authority to declassify documents from multiple agencies related to surveillance of the Trump campaign in 2016.
According to investigative journalist Sara Carter on Fox News' Hannity, last night, some of the documents will reveal that FBI "informant" (spy) Stefan Halper recorded both George Papadopoulos and Carter Page, and there is exculpatory evidence on those tapes. In addition to that, according to Carter, one of the biggest revelations will pertain to Power's unmasking efforts.
As PJ Media reported in September of 2017, Power was unmasking people at a "freakishly rapid rate."
The former U.S. ambassador moved at such a rapid pace that she ended up "averaging more than one request for every working day in 2016," multiple sources told Fox News at the time. And she continued to seek identifying information about Americans caught up in incidental surveillance right up to President Trump's inauguration.
"That's unheard of," Carter said. "Put it this way -- when John Bolton was the at the U.N., he unmasked three people. Three people. She unmasked close to 300. And I'm going to tell you some of those names are going to be very important when they come out," she added.
Link to tweet
According to OANN's Jack Posobiec, Power was targeting calls made about Israeli settlements.
"When she found Gen Flynn making calls she opposed, she passed information to Sally Yates who opened Logan Act investigation," Posobiec reported on Twitter:
Link to tweet
Link to tweet
"Obama WH was so incredibly hostile to Israel that they used extraconstitutional surveillance powers to spy on pro-Israel advocates to make sure they could thwart efforts to defend Israel," wrote Conservative Review's foreign policy expert Jordan Schachtel on Twitter. "Gross abuses of power & they got off scot-free, for now at least."
During the transition period in 2016, incoming Trump officials disagreed with the Obama administration's policy on Israeli settlements and made phone calls to world leaders regarding an upcoming vote in the United Nations to condemn Israel.
Information about these calls was leaked to the media.
Foreign Policy reported in February of 2017:
Nearly a month before Donald Trump was sworn in as president, Michael Flynn, his national security advisor designate, and other members of the president's transition team launched a vigorous diplomatic bid to head off a U.N. Security Council vote condemning Israeli settlements.
The effort represented a fitful first foray into global diplomacy by Trump's transition team, bearing hallmarks that have become familiar in the weeks since he took office. Their efforts were marked by a brusque disregard for diplomatic protocol and a hasty pressure campaign that changed few, if any, minds.
In Washington, Trump aides pressed allies, including Egypt and Britain, who both played critical roles in helping the Palestinians draft the measure, to oppose the resolution.
"We were all under pressure" from either Israel or the Trump administration, said one Security Council diplomat.
Nikki Haley, the president's pick to serve as U.N. envoy, sought frantically to reach Samantha Power, then still serving as U.S. ambassador to the United Nations, calling her office and cell phone number, a U.S. official told Foreign Policy. Power's advisors suspected Haley would try persuade Power to veto the resolution, and she did not take the call.
In New York, Flynn himself placed calls to foreign ambassadors on the U.N. Security Council, including those from Uruguay and Malaysia, the latter one of four countries that put the resolution to a vote.
In December 2015, the Obama administration was caught spying on Israeli Prime Minister Benjamin Netanyahu and his government and sweeping up the content of their private conversations with U.S. lawmakers.
Link to tweet
According to a December 2015 Politico report: "One senior U.S. official described the discovery of the swept-up communication as an 'Oh s— moment' and feared that the executive branch would be accused of spying on Congress." Gee, ya think?
According to former Trump campaign foreign policy adviser George Papadopoulos, the entire counterintelligence operation into the Trump campaign may have started because of his links to Israel.
Papadopoulos told Fox and Friends last week that he was "shocked" that the Mueller report included details suggesting that he was "illicitly targeted" because of his ties to Israel.
"I was actually really impressed and quite frankly shocked that Bob Mueller told the truth about why I was illicitly targeted and it really had nothing to do with Russia. It had to do with my ties to Israel," Papadopoulos said.
"Now, this is why this is really important. Because if I was targeted for my ties to Israel, and I had all these various spies approaching me while I was just joining the campaign and they were discussing Israel with me," he continued, "I think that's very disturbing and probably is going to reveal quite frankly how this entire investigation started."
Papadopoulos was sentenced to 12 days in prison for making false statements regarding his contacts with Joseph Mifsud to federal prosecutors. Mifsud is the mysterious Maltese professor whom the Mueller report described as having ties to Russia. Many reporters on the right, however, believe Mifsud has closer ties to Western intelligence agencies, including the FBI.
https://pjmedia.com/trending/report-declassified-docs-will-show-that-samantha-powers-2016-unmasking-efforts-were-related-to-israel/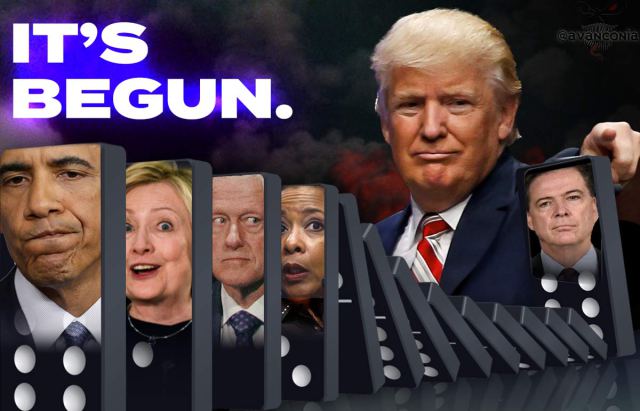 3 replies, 306 views
Replies to this discussion thread
| | | | |
| --- | --- | --- | --- |
| 3 replies | Author | Time | Post |
| Declassified Docs Will Show That Samantha Power's 2016 Unmasking Efforts Were Related to Israel (Original post) | Gunslinger201 | May 2019 | OP |
| | oflguy | May 2019 | #1 |
| | imwithfred | May 2019 | #2 |
| | BlackhawkNation | May 2019 | #3 |
---
Response to Gunslinger201 (Original post)
Mon May 27, 2019, 07:04 AM
oflguy (20,796 posts)
1. As early as 2002 her love of Palestanians and hatred for Israel has been well known
A perfect formula to work for the Muslim Obama, who also hates Israel and who has funded terrorism with billions of taxpayer dollars.
---
Response to Gunslinger201 (Original post)
Mon May 27, 2019, 09:45 AM
imwithfred (8,395 posts)
2. This is hideous.
She needs handed over to the Israelis, who proved they could give even Adolph Eichmann a fair and unbiased and unblemished trial.
---
Response to Gunslinger201 (Original post)
Mon May 27, 2019, 10:30 AM
BlackhawkNation (227 posts)
3. Samantha Power was not acting on her own accord
Who was her handler and how did that work?