Mon Aug 12, 2019, 09:56 PM
Let it go (25,878 posts)
Vanity Fair: Trump Knew Jeffrey Epstein Had Incriminating Photos of Bill Clinton
Back in 2015, onstage at the annual CPAC conference, Trump said something very interesting about Bill Clinton. "Nice guy," he said. "Got a lot of problems coming up, in my opinion, with the famous island with Jeffrey Epstein. Lot of problems."
Trump knew what he was talking about. Vanity Fair reports that, shortly before CPAC, Trump was approached by David Pecker, who then owned the National Enquirer. Pecker visited Trump and brought along "an issue with a Prince Andrew and Epstein-related cover." They were joined by Trump lawyer Michael Cohen.
After the meeting, Trump called in Sam Nunberg, who then worked for him. Nunberg told Vanity Fair:
"Michael was sitting in there when I came in, and the issue of the National Enquirer with the pictures of Prince Andrew was on his desk. He said not to tell anyone, but that Pecker had just been there and had brought the issue with him. Trump said that Pecker had told him that the pictures of Clinton that Epstein had from his island were worse."
What makes Vanity Fair's report double fascinating is that the leftist magazine clearly implies that Epstein doesn't have any dirt on Trump himself. On Twitter, leftist users have been tweeting hopefully about how this could ruin Trump's presidency. Vanity Fair knows better. When push comes to shove, this case will involve high-ranking and extremely influential Democrats.
Trump isn't known to have gone on any trips with Epstein, which would have been out of character. "I don't think Trump would go to someone else's property or someone else's island or villa," Nunberg said. "He doesn't even play golf at anyone else's clubs."
Speaking to reporters on Tuesday, President Trump dismissed his past appearances with Epstein, describing him as a "fixture in Palm Beach" in those years. "I had a falling out with him a long time ago," he added, though he declined to elaborate. "I don't think I've spoken to him for 15 years."
https://pjmedia.com/trending/vanity-fair-trump-knew-jeffrey-epstein-had-incriminating-photos-of-bill-clinton/
5 replies, 313 views
Replies to this discussion thread
| | | | |
| --- | --- | --- | --- |
| 5 replies | Author | Time | Post |
| Vanity Fair: Trump Knew Jeffrey Epstein Had Incriminating Photos of Bill Clinton (Original post) | Let it go | Aug 2019 | OP |
| | Gunslinger201 | Aug 2019 | #1 |
| | Independent.mind | Aug 2019 | #2 |
| | DavesNotHere | Aug 2019 | #3 |
| | Fiendish Thingy-BC | Aug 2019 | #4 |
| | joefriday6 | Aug 2019 | #5 |
---
Response to Let it go (Original post)
Tue Aug 13, 2019, 06:35 AM
Gunslinger201 (48,294 posts)
1. There is no doubt in my Mind Trump knows all about
Epstein and Clinton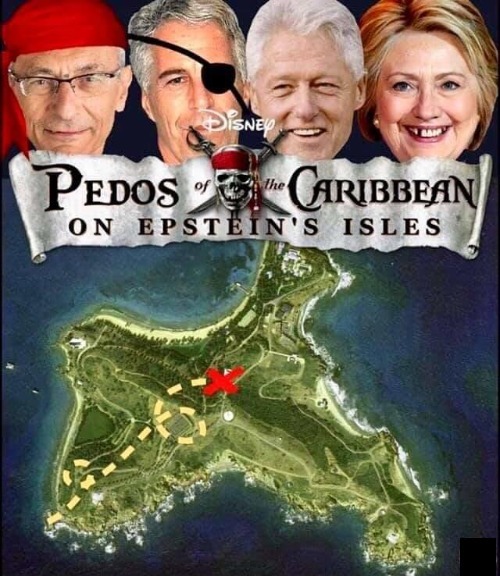 Q followers knew about the Epstein Pedo Network for over a year
Pizzagate is real, Nobody ever said it was run out of the restaurant, that's Fake News getting it wrong
But the owner of the restaurant owns another building .....it will come out
---
Response to Let it go (Original post)
Tue Aug 13, 2019, 06:41 AM
Independent.mind (7,157 posts)
2. If there are photos I hope the DOJ gets them and releases whatever they can
Maybe then the Clinton's will be held accountable or at the very least fade from view and cease to be a part of the conversation.
---
Response to Let it go (Original post)
Tue Aug 13, 2019, 07:24 AM
DavesNotHere (10,668 posts)
3. If I understand the implications of this, if true,
One would have to believe that Trump new a person with these sort of photos, but rather than go to them prior to the election for dirt, instead was trying to get unknown stuff from Russia?

This story, again, if accurate, would seem to be another nail in the coffin of the Russian collusion hoax.
---
Response to Let it go (Original post)
Tue Aug 13, 2019, 09:54 AM
Fiendish Thingy-BC (3,622 posts)
4. Why not link to the original Vanity Fair story?
Instead of the PJmedia spin?

BTW, in the Epstein document dump last Friday, there was a copy of a flight log from 2007 that showed Donald Trump listed as a passenger on at least one flight...thousands of additional pages due to be released soon...
---
Response to Let it go (Original post)
Tue Aug 13, 2019, 09:56 AM
joefriday6 (13,440 posts)
5. David Pecker? Uh-huh.....