Sun Mar 1, 2015, 12:40 PM
smokingman (4,865 posts)
President meets with terrorist leader who ordered murder of UN peace envoy.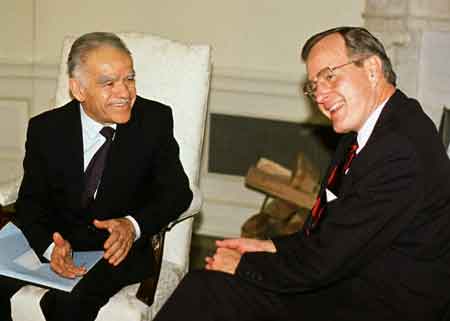 During the Israeli War of Independence, most of Lehi's members served in the newly formed Israel Defense Forces, but the Lehi group in Jerusalem rebuffed government control. During a UN-imposed truce, Shamir, Eldad, and Yellin-Mor authorized the assassination of the United Nations representative in the Middle East, Count Folke Bernadotte, who had saved numerous Jews, an estimated 5,000, from the Nazi Holocaust, as had his assistant, Colonel Serot, and whom Lehi gunmen murdered in September 1948 by ambushing his motorcade in Jerusalem. Shamir over his long career never expressed any regret for the action. Lehi had feared that Israel would agree to Bernadotte's peace proposals, which they considered disastrous, unaware that the provisional Israeli government had already rejected a proposal by Bernadotte the day before. The Israeli provisional government drafted an ordinance for the prevention of terrorism and then invoked it to declare Lehi a terrorist organisation, consequently rounding up 200 of its members for administrative detention. They were amnestied some months later and given a state pardon. With the formation of the State of Israel, Lehi formally disbanded on May 29, 1948 and its forces joined the Israeli army.
http://en.wikipedia.org/wiki/Yitzhak_Shamir
Lehi also referred to themselves as 'terrorists' and may have been one of the last organizations to do so.
An article titled "Terror" in the Lehi underground newspaper He Khazit (The Front ) argued as follows:
Neither Jewish ethics nor Jewish tradition can disqualify terrorism as a means of combat. We are very far from having any moral qualms as far as our national war goes. We have before us the command of the Torah, whose morality surpasses that of any other body of laws in the world: "Ye shall blot them out to the last man." But first and foremost, terrorism is for us a part of the political battle being conducted under the present circumstances, and it has a great part to play: speaking in a clear voice to the whole world, as well as to our wretched brethren outside this land, it proclaims our war against the occupier. We are particularly far from this sort of hesitation in regard to an enemy whose moral perversion is admitted by all.
The article described the goals of terror:
It demonstrates ... against the true terrorist who hides behind his piles of papers and the laws he has legislated.
It is not directed against people, it is directed against representatives. Therefore it is effective.
If it also shakes the Yishuv from their complacency, good and well
http://en.wikipedia.org/wiki/Lehi_
(group)
0 replies, 586 views