Sat May 4, 2019, 06:04 PM
Gunslinger201 (51,057 posts)
Unfair Advantage: Transgender Weightlifter Breaks Several Womens World Records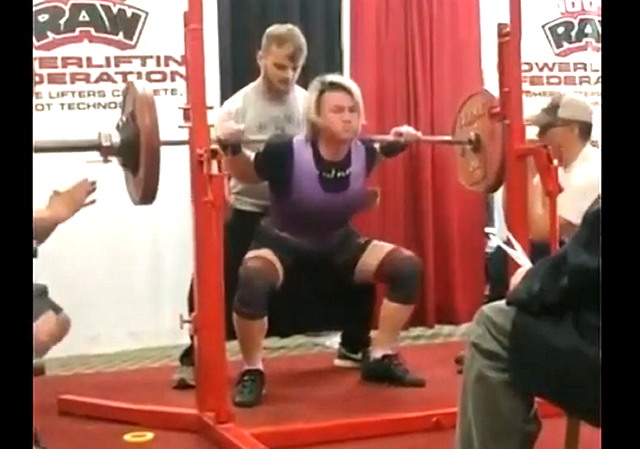 "A woman with female biology cannot compete.. it's a pointless unfair playing field."
Mary Gregory was born male, but now identifies as female. Now that Gregory has broken world records in women's weightlifting, some people have pointed out the fact that biology provides an unfair advantage.
Link to tweet
Alex Lasker reports at AOL News:
Transgender weightlifter smashes women's world records, sparking backlash from Olympians
A transgender weightlifter is receiving backlash after racking up multiple wins during the 100% Raw Weightlifting Federation competition in Virginia over the weekend.
Mary Gregory, an American powerlifter and strength coach, took to Instagram on Sunday to announce she had gone "9 for 9" at the competition and broken four women's world records: Masters world squat record, open world bench record, Masters world deadlift record and Masters world total record.
"Still processing, full meet recap to come a bit later," she wrote, before thanking those who made her feat possible, including the competition's organizers.
"A huge thank you to @raw_powerlifting_federation_ , from the bottom of my heart!" Gregory said. "As a transgender lifter I was unsure what to expect going into this meet and everyone- all the spotters, loaders, referees, staff, meet director, all made me welcome and treated me as just another female lifter- thank you!"
However, despite her own enthusiasm, Gregory's win seems to have angered a few other athletes, including former British Olympic swimmer Sharron Davies and British track Olympian Kelly Holmes.
Here's Gregory's Instagram post:
https://www.instagram.com/p/BwxgbyQgtI_/?utm_source=ig_embed
https://legalinsurrection.com/2019/05/unfair-advantage-transgender-weightlifter-breaks-several-womens-world-records/
Where the Hell are the Grownups?
8 replies, 434 views
Replies to this discussion thread
| | | | |
| --- | --- | --- | --- |
| 8 replies | Author | Time | Post |
| Unfair Advantage: Transgender Weightlifter Breaks Several Womens World Records (Original post) | Gunslinger201 | May 2019 | OP |
| | Nephrite | May 2019 | #1 |
| | joefriday6 | May 2019 | #2 |
| | def_con5 | May 2019 | #3 |
| | msv | May 2019 | #4 |
| | batcat | May 2019 | #5 |
| | SatansSon666 | May 2019 | #6 |
| | quad489 | May 2019 | #7 |
| | Jardinier | May 2019 | #8 |
---
Response to Gunslinger201 (Original post)
Sat May 4, 2019, 06:15 PM
Nephrite (3,819 posts)
1. he is by nature and physiology a man
which makes his woman's record crap.

there is a reason we separate men and women's sports, this punk is just taking advantage of his being male.
---
Response to Gunslinger201 (Original post)
Sat May 4, 2019, 06:17 PM
joefriday6 (13,740 posts)
2. This gets more ridiculous by the day. This keeps up, they will have to ban all sports. And why would
anyone pay to watch this shit?
---
Response to Gunslinger201 (Original post)
Sat May 4, 2019, 06:26 PM
def_con5 (14,153 posts)
3. Sadly it's not a joke
A significant potion 30%? of the country believe this crap. "Trans-women" are demanding that institutions schools, prisons, etc provide female hygiene products such as menstruation pads, etc. And of course some states are complying.

It's also becoming a crime to misgender someone. Some father in Canada looks like he's going to the slam for referring to his minor biological female daughter as a she.
---
Response to Gunslinger201 (Original post)
Sat May 4, 2019, 06:30 PM
msv (4,080 posts)
4. Hey, women are largely the ones pushing this mental illness
They can deal with this. Not my problem. Enjoy getting beasted by dudes, ladies
---
Response to msv (Reply #4)
Sat May 4, 2019, 07:38 PM
batcat (18,890 posts)
5. Not all women are pushing this. ...
Martina Navratilova on trans athletes: 'Letting men compete as women is unfair'
The tennis legend says transgender inclusion in sports is "insane and it's cheating."
By Dawn Ennis Updated Feb 17, 2019, 9:57am PST
Martina Navratilova, who first came out as lesbian in 1981, came out again Sunday as a transphobe.
In an op-ed for The Sunday Times of London, the tennis icon wrote a clear-cut explanation of her perspective that transgender women athletes should not be allowed to compete as women.
Navratilova states her belief that trans women are men who "decide to be female," and that to allow them to compete with women is "insane and it's cheating... it is surely unfair on women who have to compete against people who, biologically, are still men."
https://www.outsports.com/2019/2/17/18227992/martina-navratilova-trans-athletes-are-men-competing-as-women-is-unfair
I personally agree with Navratilova on this issue. I enjoy watching females compete in sports and at a MINIMUM no male who has not undergone the full transition to female should be allowed to complete with biological females. Otherwise female sports records will be a farce.
---
Response to Gunslinger201 (Original post)
Sun May 5, 2019, 11:58 AM
SatansSon666 (8,888 posts)
6. ridiculous.
Not my problem, but really, smarten the fuck up folks.
---
Response to Gunslinger201 (Original post)
Sun May 5, 2019, 02:27 PM
quad489 (29,536 posts)
7. Just further proves how moronic the party of science types pushing this BS really are...
---
Response to Gunslinger201 (Original post)
Thu May 9, 2019, 11:53 PM
Jardinier (8,269 posts)
8. hahahahahahahahahahahahahahahahhahahahahahahahahahahahaha haha
"I'm not mentally ill, you're mentally ill" said Lefty.
https://pmatep5f7b.execute-api.us-east-1.amazonaws.com/ProdStage