Mon May 27, 2019, 07:21 AM
bobsal (1,095 posts)
Flouting The Law In Nostalgia's Name: Russia's Growing Movement Of 'Soviet Citizens'
Flouting The Law In Nostalgia's Name: Russia's Growing Movement Of 'Soviet Citizens'
May 25, 2019 11:03 GMT
By Matthew Luxmoore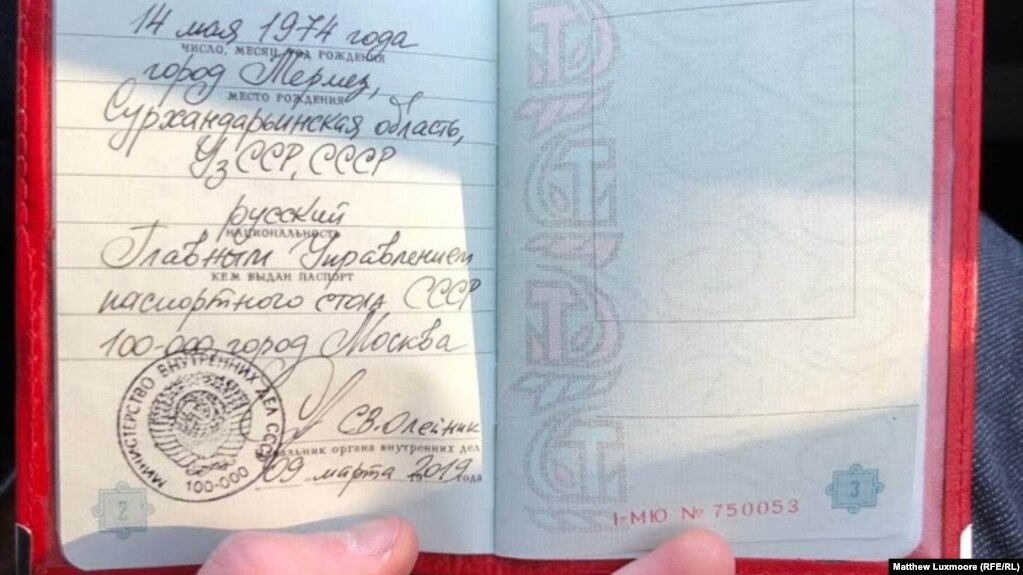 Konstantin Vyatkin shows off his "Soviet" passport.
Share
MOSCOW -- Konstantin Vyatkin has never acknowledged the Soviet collapse.
"For the past 28 years I've tried to live in this country called Russia," he says. "But in my heart I still live there, in the Soviet Union."
But Vyatkin does not simply miss the Soviet Union -- he actively denies its breakup, and claims to obey only its laws. And now a vibrant cottage industry is helping legitimize his discontent.
Sitting behind the steering wheel of his Mercedes in central Moscow on a recent afternoon, he produces a brand-new Soviet passport. Date of issue: March 9, 2019.
It looks identical to the real thing -- with a stamp bearing the Soviet emblem, a black-and-white photograph, and hammers and sickles on each two-page spread. It came, he says, with a red-and-white sticker now stuck to his windshield: "I am a citizen of the U.S.S.R.," it reads.
At banks, police stations, and inside courtrooms across the country, people calling themselves "citizens of the U.S.S.R." demand their right to impunity before the legal system of the Russian Federation, a state they neither recognize nor, apparently, fear.
The Internet, which only reached the masses after the Soviet collapse, is now helping spread their basic conspiracy theory: that a document dissolving the Soviet Federative Socialist Republic (RSFSR), a constituent republic of the Soviet Union, and signed on December 25, 1991, by its then-President Boris Yeltsin, is illegal.
But beyond feeding widespread Soviet nostalgia and disillusionment, the channels also promote ways newly minted "Soviet citizens" can skirt Russian laws, open bank accounts, and evade taxes. Bloggers harass parliamentary deputies on camera, prank-call government ministries, set up bank accounts using "Soviet" passports, and ridicule traffic cops who stop them for displaying illicit, "Soviet" registration plates.
The movement's unofficial manifesto, quoted by MVD SSSR and other sites flogging counterfeit documents, as well as the numerous videos online, includes a demand that all "Soviet citizens" working for the "occupational structures" be amnestied and freed from prosecution once the U.S.S.R. is revived. Anyone born in the erstwhile Soviet Union is considered to still be a Soviet citizen today under the 1978 Soviet law on citizenship, and so are their children. That includes people living in all of the 15 former Soviet republics.
"In contact with a representative of the occupational structure, a citizen of the U.S.S.R. must behave correctly and politely, and not provoke any unlawful actions," explains a document published by MVD SSSR.
Aleksandr Ulyanov, a 53-year-old blogger in Yaroslavl (who curiously shares Lenin's surname), puts this into practice for his YouTube blog. In one video, he drives around town with "Soviet" number plates and a dashboard camera, and when he's pulled over he claims the officer has no authority over a "citizen of the U.S.S.R." since the Russian police represent a state that should not legally exist.
"Here we go again, I've heard this all before!" the officer says in the video.
"What year were you born?" Ulyanov asks.
"1985."
"What was the country?"
"The U.S.S.R."
"Did someone deprive you of U.S.S.R. citizenship?"
"What are you trying to tell me?"
"That you're not a Russian citizen but a citizen of the U.S.S.R.," Ulyanov responds. "From a legal standpoint you have no right to address me."
Ulyanov then presents his passport, driver's license, and insurance papers, all issued by ministries claiming to represent the U.S.S.R.
"You understand what's happening? All the organs of Soviet power are being re-created."
The baffled officer apparently lets him continue on his way.
In January 2018, Sergei Demkin, a former oil trader in St. Petersburg, published a document online that claimed members of a new trade union he was launching were entitled to free household utilities.
The organization, Union SSR, now has its own office in central St. Petersburg, from which it advocates rejection of Russian laws and claims to empower its members with a legal basis to refuse paying taxes and utility bills. Demkin says that since the government has never refuted his claims, they are legally sound.
But the privilege does not come free. Demkin's clients -- mostly retired people, in a country where the average monthly pension is $213 -- pay a 1,000 ruble ($15) registration fee and monthly payments of 200 rubles ($3).
In a telephone interview with RFE/RL, Demkin said Union SSR has 170 regional chapters, but he declined to quantify his membership.
"I don't want the Russian secret services to know how many we are," he said. "They fear any form of association."
Bakhmutsky agreed. In the U.S.S.R., there was no such concept as private property and most Soviet citizens paid minimal taxes and utility bills. Many today want a return to that blueprint, he said.
"The number of people living below the poverty line is growing. Naturally, they begin to seek a moral justification for not paying for the services they use," he said. "And some try to capitalize on that misconstrued sense of social justice."
In January, state gas giant Gazprom revealed that customers across Russia owe the company and its subsidiaries over 30.1 billion rubles ($466 million) in arrears.
In Chechnya, the problem grew so acute that a court instructed Gazprom in January to write off $135 million in debt owed by customers in the region after prosecutors warned of "social unrest." Four other regions soon followed Chechnya's lead by seeking their own debt amnesties.
Court documents describe Zlokazov as a member of the Union of Slavic Forces of Rus, an unregistered group whose membership the FSB estimates at 150,000 members. According to Sova, an NGO that monitors extremism in Russia, "the union's materials contain very specific, often unclear, and often anti-Semitic rhetoric."
According to the indictment, Zlokazov joined the organization in 2014 and was quickly appointed to a number of high-ranking posts in the imagined Soviet government. Local FSB investigator Nikita Karpov told the daily Kommersant last March that the security services were forced to act after they were alerted to a series of orders that Zlokazov sent out through the Russian mail to the leaderships of army bases across the region in February 2016, in which he threatened to liquidate them if they did not reorganize themselves into self-defense units engaged in the campaign to revive the Soviet Union.
That afternoon, Vyatkin addressed thousands of viewers tuning in from across the former Soviet Union and explained why he was joining the movement to rebuild the U.S.S.R.
"I hope all viewers in our U.S.S.R. hear me," he said. "We must resurrect the organs of Soviet power."
Vyatkin, who runs a small business that renovates hydraulic tail lifts on dump trucks, has long felt angry about taxes and the lack of welfare in Russia. In May, he plans to visit his local police station and demand they delete his records.
"I'll insist on my rights as a Soviet citizen," he says. "After that, tax statements will no longer arrive."
6 replies, 270 views
Replies to this discussion thread
| | | | |
| --- | --- | --- | --- |
| 6 replies | Author | Time | Post |
| Flouting The Law In Nostalgia's Name: Russia's Growing Movement Of 'Soviet Citizens' (Original post) | bobsal | May 2019 | OP |
| | rampartb | May 2019 | #1 |
| | Banshee 3 Actual | May 2019 | #3 |
| | imwithfred | May 2019 | #2 |
| | CornFed | May 2019 | #4 |
| | Currentsitguy | May 2019 | #5 |
| | msv | May 2019 | #6 |
---
Response to bobsal (Original post)
Mon May 27, 2019, 07:30 AM
rampartb (19,293 posts)
1. no weirder than our own patriotic confederates
neo confederates : 100% republicans who claim that the old confederates were all democrats.
---
Response to rampartb (Reply #1)
Mon May 27, 2019, 09:54 AM
Banshee 3 Actual (50,882 posts)
3. Jefferson Davis was a Lifetime Democrat and POTCSA, Alex Stephens a Lifetime Dem and VPOTCSA
Republican party formed as Abolitionist and stayed Loyal to the Union (USA)

democratic party owned slaves and fired on the federal government to keep owning slaves


Name a Republican who was a LEADER of the Confederate States of America
---
Response to bobsal (Original post)
Mon May 27, 2019, 08:26 AM
imwithfred (8,395 posts)
2. Well now, Marbles, sir, surely you see this as a good thing.
It's good old times with Bernie, too.
---
Response to bobsal (Original post)
Mon May 27, 2019, 10:32 AM
CornFed (4,457 posts)
4. You forgot to provide the link for the source of your SPAM post
ALWAYS provide links when spamming the board with someone else's nonsensical bullshit
---
Response to bobsal (Original post)
Mon May 27, 2019, 11:21 AM
Currentsitguy (22,137 posts)
5. Sounds to me like Comrade Demkin has quite a lucrative scam going on
---
Response to bobsal (Original post)
Mon May 27, 2019, 11:25 AM
msv (4,021 posts)
6. No wonder you didn't include a source
It's literally from the CIA's "Radio Free Europe"