Tue Dec 19, 2017, 12:03 PM
orson (11,725 posts)
Climate fail army
Global cooling is right around the corner. Hilarious read, though deniers probably won't see the humor.
https://www.theguardian.com/environment/planet-oz/2017/dec/19/checkmate-how-do-climate-science-deniers-predictions-stack-up
Apart from being wrong, all these failed predictions have one thing in common: they all reject the role that human emissions of carbon dioxide are having on global temperatures.
The natural cycles used by many to make predictions, such as El Niño or the Pacific decadal oscillation or the activity of the sun, are well known and well studied. But as the failed predictions show, those natural cycles have lost their grip on the world's temperature. Carbon dioxide is increasingly in charge.
So allow me to make a couple of predictions.
First, based on their record, climate-science deniers will keep telling you that global cooling is just around the corner or that all that extra CO2 will be just great anyway.
Second, many will look to the comments section to yell that climate models are broken and global temperature records are being nefariously tampered with.
14 replies, 940 views
Replies to this discussion thread
| | | | |
| --- | --- | --- | --- |
| 14 replies | Author | Time | Post |
| Climate fail army (Original post) | orson | Dec 2017 | OP |
| | DDKick | Dec 2017 | #1 |
| | quad489 | Dec 2017 | #2 |
| | orson | Dec 2017 | #3 |
| | quad489 | Dec 2017 | #4 |
| | ICU | Dec 2017 | #14 |
| | oflguy | Dec 2017 | #5 |
| | oflguy | Dec 2017 | #6 |
| | Jack Burton | Dec 2017 | #7 |
| | orson | Dec 2017 | #8 |
| | Jack Burton | Dec 2017 | #9 |
| | orson | Dec 2017 | #10 |
| | oflguy | Dec 2017 | #11 |
| | oflguy | Dec 2017 | #12 |
| | Jack Burton | Dec 2017 | #13 |
---
Response to orson (Original post)
Tue Dec 19, 2017, 12:45 PM
DDKick (10,207 posts)
1. Glow Bull Warming?
That is just the most obvious example of the stupidity of the left today. It really represents the lib mindset of just take our word for it.

I mean they are wrong about Trump, wrong about Hillary , wrong about Obama, virtually everything they say or think is or has been proven wrong, yet they want to lead. They look at it like all the other lies they live in day to day. That they need to be heard because , because , because it is just fair. Look at it another way:
They want to be the only ones allowed to yell fire in a theater that isn't on fire but it might be some day. They want to project doom and gloom about anyone who doesn't become part of the cult.

To ask them for proof one is met with insults , accusations and misdirection all while continuing to defend something they couldn't understand to begin with. It is not in their DNA they need instructions or can't think or function.

Today the smarter people realize every glow bull warming prediction has and will be wrong because it is based on faith and faith alone.

I almost feel bad for them because they created their own problems by pretending people like ALGORE had a clue and were not just in it for money and power lol. They promised biblical like destruction in our life time and were beyond wrong , yet we are told they are credible. Only a liberal would be so dumb as to keep following a lie because they can't admit they were wrong , ever.

---
Response to orson (Original post)
Tue Dec 19, 2017, 12:46 PM
quad489 (29,474 posts)
2. ''Carbon dioxide is increasingly in charge''...awesome, the plants/trees/etc will love it.
---
Response to quad489 (Reply #2)
Tue Dec 19, 2017, 12:53 PM
orson (11,725 posts)
3. Right on time
---
Response to orson (Reply #3)
Tue Dec 19, 2017, 01:47 PM
quad489 (29,474 posts)
4. Show the forum again the arrogance of claiming you are going to stop the Earth from warming/cooling!
---
Response to orson (Reply #3)
Thu Dec 21, 2017, 10:14 PM
ICU (54 posts)
14. A magnificent example of the DunningKruger effect. (No..not you)
---
Response to orson (Original post)
Tue Dec 19, 2017, 10:12 PM
oflguy (20,796 posts)
5. Don't leave any evidence of your beliefs around for your grandchildren to read
You want them to respect you
---
Response to orson (Original post)
Tue Dec 19, 2017, 10:16 PM
oflguy (20,796 posts)
6. Here are a few predictions orson
Algore predictions and reality
Prediction: 12 October 2007 Al Gore said with apocalyptic certainty while accepting the Nobel Peace Prize, "The North Polar ice cap is falling off a cliff; 'It could be completely gone in summer in as little as seven years. Seven years from now!" We all can point to thousands of media stories on this topic so Al has some company on this scientific propaganda.
Reality: It's now 7 years later and what do we have? 76% bigger ice coverage and thickness than just two years ago, 35% BIGGER than 2007 when Gore spoke from the pulpit. We won't discuss that Antarctica (South Pole) reached all-time record levels this year, oh by the way those all time records only go back to the 1979 satellite era when we had accurate information so we know very little about how big or small it actually got thousands of years ago. Let's move to the North Pole where the sea ice is actually 76% bigger and thicker than just two years ago, yes still below average but growing.
Prediction: Hurricanes numbers are increasing and getting stronger. This claim has been made by so many we've lost track...Al Gore, Dr. Mann from Penn State (guy behind the Climate Gate Scandal), etc. etc. When a politician gets on a cherry picker and his Power Point slide show says Hurricanes are going to get much more frequent and much stronger be afraid...very afraid!
Reality: The scary truth is Global and Atlantic basin hurricane activity and intensity has been plummeting for years and now at 50 year lows globally and 30 year lows in the Atlantic. The Atlantic basin is now in the longest stretch without a U.S. major land falling hurricane - 9 years and that's based on records going back 150 years.
Prediction: Snow and frost will disappear. Same group as point 3 but there are hundreds of scientists who made this claim over the past 20 years. More heat waves, no snow in the winter… Climate models… over 20 times more precise than the UN IPCC global models. In no other country do we have more precise calculations of climate consequences. They should form the basis for political planning" Max Planck Institute for Meteorology, Hamburg, September 2, 2008.
Reality: As soon as the 30-year Pacific Decadal Oscillation (PDO) cycle started it's cold phase in 2007 we've seen a wholesale change in the severity of cold/snowy Winters the past 7 years. Cold Pacific Ocean - cold snowy planet with 4 of the past 7 winters the snowiest on record based on NOAA/NASA measurements that started in the late 1960s. Wait until the Atlantic Multidecadal Oscillation (AMO) cycle enters it's cold phase in a few years - it's still warm but already peaked and getting colder. Won't even talk about the Sun's role as it enters it's 300 year minimum in the next few years. Last time all 3 lined up in the cold phase together was the 1600-1700s aka the Little Ice Age.
Prediction: Global temperatures will be +0.8C to +1.8C above average by 2014 made by 74 IPCC UN Climate Models in 2005 - just 9 years ago and they were completely and utterly wrong and not one predicted the continued 17 years pause in global temperatures.
Reality: They all get an F and time to go back to the drawing board to figure out why! Last year July, all 90 IPCC climate models were completely wrong as the global temperature remained flat for 16 straight years - not one predicted the pause with the current temp below the 100% guarantee it won't be this temp. We are so let's go back and figure out why all the UN and academic climate models got it wrong.
Then again, rather than figure out what went wrong with the models, let's just go back and adjust all the weather history to fit the models as it's easier to change past history than forecast the climate. Yes, that's exactly what so many world meteorological agencies are doing and getting caught red handed in Australia, New Zealand and right here in the U.S. as well. In this example, NOAA went back and "adjusted the temperature records because they believe, again sounds like more religion vs science, that the older thermometers were less accurate than today so magically, with a few key strokes Maine's temperatures got colder by 2-5F back in the early 1900s and the more recent period got warmer by 1-2F. Just like that the graph is so much more helpful if you're trying to prove Global Warming is out of control. This is rampant in the climate arenas and it's sickening as this forever corrupts any REAL RESEARCH!!!!
Prediction: Tornadoes are getting more frequent, greater numbers and much stronger. You name it - every media outlet had you believing this back in 2011. See a pattern here...any weather event will jump to the top of the media's hype to convince you that the end is near if we don't shut off our refrigerators, cell phones, cars, AC, heaters NOW!
Reality: According to the severe storms forecast center, the actual number of violent monster F3 tornadoes has actually been decreasing.
What's even more amazing is how our own NOAA agency can't even place a weather station in the right spot with their OWN PLACEMENT REQUIREMENTS. Weather stations are supposed to be placed away from heat sources like pavement, buildings, grills, air conditioners, etc. etc. They're supposed to be 5 feet off the ground in a grassy natural environment over a 100 feet from trees and buildings. Got'a love the colossal disaster on the top right and if you check out Tucson, AZ weather history you get a nice bounce in heat once the weather sensor is surrounded by a parking lot that used to be grass. The sensor at the end of a new runway (bottom right) got'a love it! And the sensor bottom left is just outside a huge interchange and they put the sensor over concrete - that will be a hot sensor! But hey, we're certain the global temperature is +0.20C above average - sounds like statistical noise when we can't even get yesterday's temperatures that accurately.
---
Response to orson (Original post)
Tue Dec 19, 2017, 10:19 PM
Jack Burton (14,198 posts)
7. Nothing left to do but die.
---
Response to Jack Burton (Reply #7)
Wed Dec 20, 2017, 12:15 AM
orson (11,725 posts)
8. We're going to ride it all the way down
---
Response to orson (Reply #8)
Wed Dec 20, 2017, 08:12 AM
Jack Burton (14,198 posts)
9. To help with real world planning do have some specific predictions and timelines
that we need to be aware of?
---
Response to Jack Burton (Reply #9)
Wed Dec 20, 2017, 12:05 PM
orson (11,725 posts)
10. Well, there's this
2200
An Earth day will be 0.12 milliseconds shorter, as rising temperatures cause oceans to expand away from the equator and toward the poles, one model predicts. One reason water will be shifted toward the poles is most of the expansion will take place in the North Atlantic Ocean, near the North Pole. The poles are closer to the Earth's axis of rotation, so having more mass there should speed up the planet's rotation. (Felix Landerer, Max Planck Institute for Meteorology, Geophysical Research Letters)
And this, which dates from 2007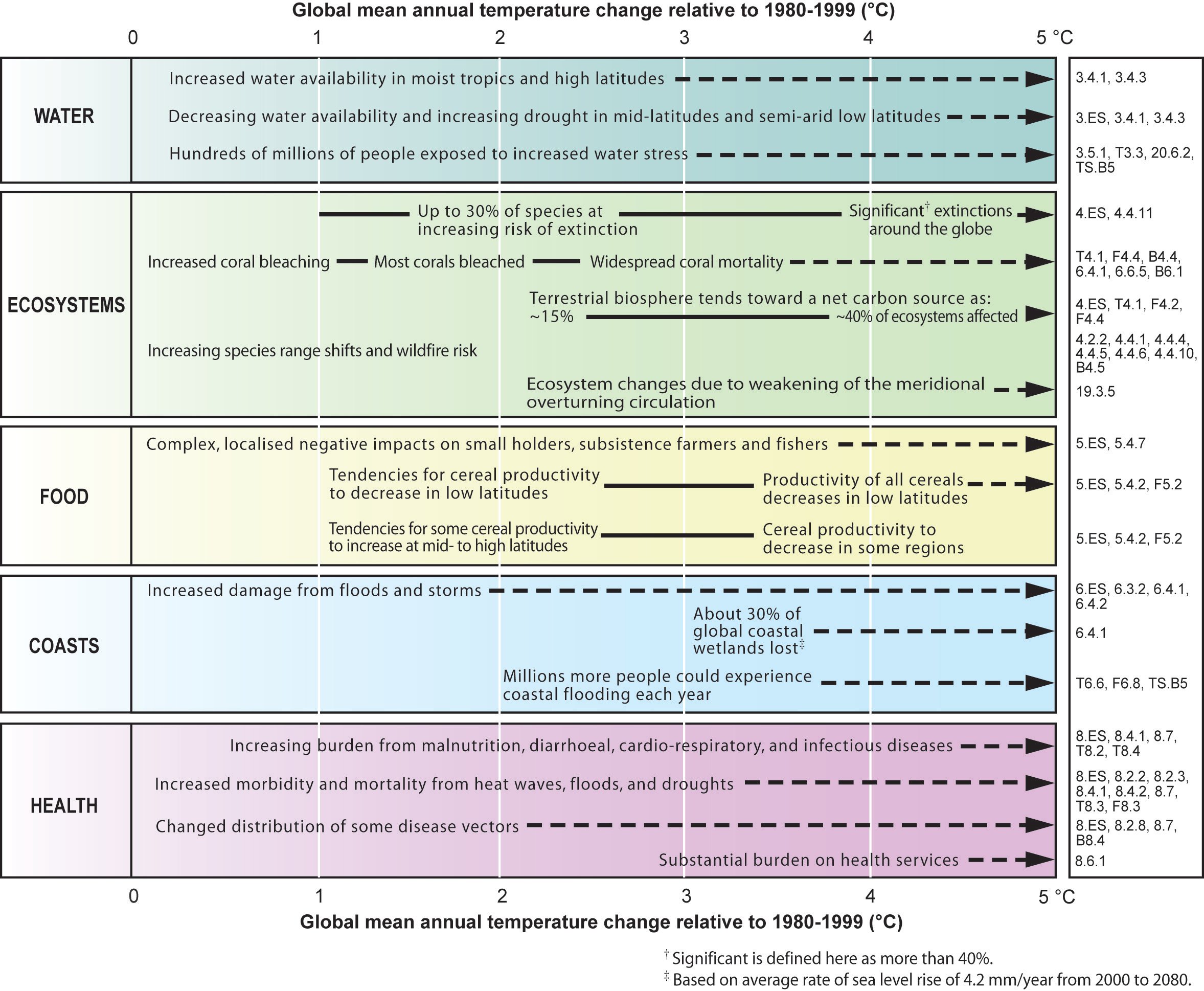 And there's this, from the most recent Climate Report published by the feds:
The worst-case predictions regarding the effects of global warming are the most likely to be true, a new study published this week has warned.
"Our study indicates that if emissions follow a commonly used business-as-usual scenario, there is a 93 per cent chance that global warming will exceed 4°C by the end of this century," Dr. Ken Caldeira, an atmospheric scientist at the Carnegie Institution for Science, who co-authored the study told The Independent.
http://www.ajc.com/weather/worst-global-warming-predictions-likely-the-most-accurate-study-finds/8XgpSxgLGHTZ7ctdgIJ7fJ/
A couple years back I saw a study that said by 2020 parts of the Caribbean would become too hazardous for us to live in. The fact that 200,000 Puerto Ricans have relocated to Florida and the rest are scrabbling for food, water and electric power seems to bear that out.
---
Response to orson (Reply #10)
Wed Dec 20, 2017, 12:52 PM
oflguy (20,796 posts)
11. We won't live until 2200 orson
---
Response to orson (Reply #10)
Wed Dec 20, 2017, 01:00 PM
oflguy (20,796 posts)
12. One of these days Calderia will be the butt of many jokes
---
Response to orson (Reply #10)
Thu Dec 21, 2017, 11:13 AM
Jack Burton (14,198 posts)
13. An Earth day will be 0.12 milliseconds shorter!!!!!!!!!!!!!
Last edited Thu Dec 21, 2017, 12:53 PM - Edit history (1)
OMG! How will we ever fucking survive? Oh I guess we won't. This is a catastrophe. Can you imagine a day being 0.0000001388% shorter. How can we grow food with only 99.99998612% of a day????
And what if the vaunted computer models are wrong and their projections are half of doom reality? Then the day would be shortened to only 99.99997224% of the current day? What would be the impact on marijuana production? What if the cost of sour diesel increases?
This is truly an existential crisis. We definitely need to divert trillions of dollars to research and disrupt economies and cultures worldwide, and increase the cost of energy and food thus starving tens of millions of people to prevent this p-o-s-s-i-b-i-l-i-t-y.
DOOMERS ARE A FUCKING JOKE.
https://pmatep5f7b.execute-api.us-east-1.amazonaws.com/ProdStage