Wed Mar 21, 2018, 09:28 AM
Jack Burton (14,194 posts)
NOAA Data Tampering Approaching 2.5 Degrees
https://realclimatescience.com/2018/03/noaa-data-tampering-approaching-2-5-degrees/
NOAA's US temperature record shows that US was warmest in the 1930's and has generally cooled as CO2 has increased. This wrecks greenhouse gas theory, so they "adjust" the data to make it look like the US is warming.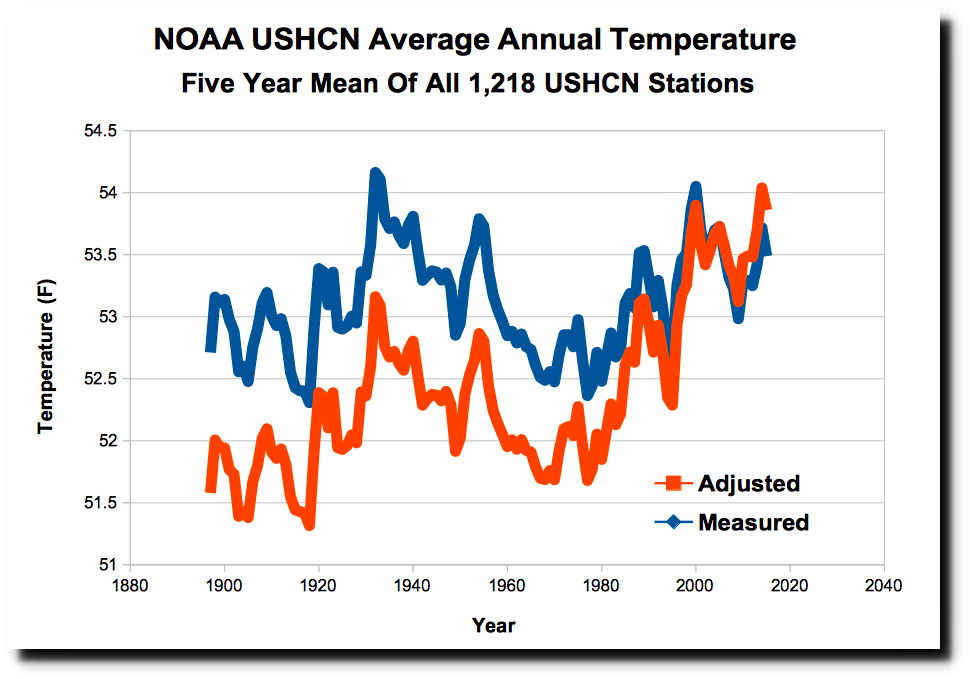 The NOAA data tampering produces a spectacular hockey stick of scientific fraud, which becomes the basis of vast amounts of downstream junk climate science. Pre-2000 temperatures are progressively cooled, and post-2000 temperatures are warmed. This year has been a particularly spectacular episode of data tampering by NOAA, as they introduce nearly 2.5 degrees of fake warming since 1895.
1 replies, 207 views
Replies to this discussion thread
| | | | |
| --- | --- | --- | --- |
| 1 replies | Author | Time | Post |
| NOAA Data Tampering Approaching 2.5 Degrees (Original post) | Jack Burton | Mar 2018 | OP |
| | oflguy | Mar 2018 | #1 |
---
Response to Jack Burton (Original post)
Wed Mar 21, 2018, 01:45 PM
oflguy (20,796 posts)
1. I love when NOAA "adjusts" their data
Ocean temperatures are a good example. Out of the blue, NOAA decided to "adjust" historic ocean temperatures down in order to make it look like the oceans are warming.

I trust a liberal to tell me what the temperature is like I trust a puppy dog to watch my food.