Tue Aug 6, 2019, 03:57 PM
Aquila (2,682 posts)
Development Approval from the South Australian Government for the Worlds Largest Hydrogen Super Hub
Neoen Australia Receives Development Approval from the South Australian Government for the World's Largest Hydrogen Super Hub
FuelCellWorks | August 6, 2019
Neoen Australia, owner and operator of the world's largest lithium-ion battery located nearby, has received development approval from the South Australian Government to develop a 50 megawatt (MW) Hydrogen Super hub at Crystal Brook, 200 kilometres north of Adelaide.
The project is envisioned to be the world's largest co-located wind, solar, battery and hydrogen facility and will include:
50 MW of hydrogen production capability (up to 9,000 tonnes per annum) on-site or at nearby Port Pirie
110 MW of wind generation
100 MW of solar photovoltaic generation
100 MW of lithium-ion battery storage
a purpose-built substation to deliver the power produced by the project into the South Australian grid.
In a statement on Tuesday, Neoen said its "next generation" clean energy plans had received the green light from government to proceed to development and help "keep the lights on and cut electricity bills" for the households and businesses.
"With this project, we look forward to building on the success of the Hornsdale Wind Farm and Power Reserve, which since commencing operations in 2017, has helped to stabilise the grid and saved South Australian consumers over $50 million," said Neoen Australia's head of development, Garth Heron.
"Changing the role of renewables, from just providing power when available to providing firm power 24-hours a day is essential for long-term sustainability, and this project will the first of its kind to offer that type of power service in Australia."...more:
https://fuelcellsworks.com/news/neoen-australia-receives-funding-from-the-south-australian-government-to-the-worlds-largest-hydrogen-super-hub/
Related:
Australia's top scientist calls for hydrogen revolution to replace fossil fuels
The federal government's top scientist Alan Finkel says Australia could slash global carbon emissions and create a multi-billion dollar export industry by developing hydrogen as an everyday energy source to replace fossil fuels used in vehicles, homes and industry.
A major climate report on Monday identified hydrogen, which can be produced with virtually no emissions, as among fuel options that must be developed if the planet is stay below the critical 1.5 degrees warming threshold and avoid the worst climate change disasters....more:
https://www.smh.com.au/politics/federal/australia-s-top-scientist-calls-for-hydrogen-revolution-to-replace-fossil-fuels-20181009-p508mj.html
While some buffoons try to convince people that wind turbines cause cancer, actual leaders are building the future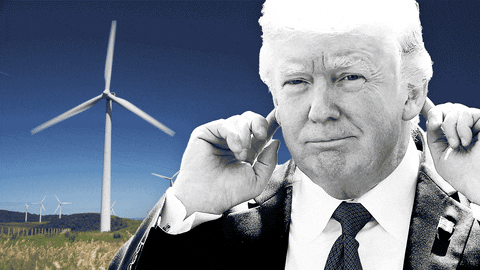 "If you have a windmill anywhere near your house, congratulations, your house just went down 75 percent in value...and they say the noise causes cancer." - Donald J. Trump April 2, 2019
0 replies, 135 views