Wed Apr 24, 2019, 09:34 PM
wonderwarthog (17,586 posts)
NIST (National Institute of Standards and Technology) 45 Record Player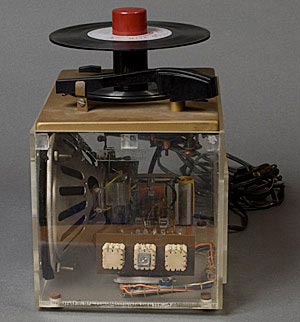 Title
Project Tinkertoy Wafer Tube Amplifier
Inventors(s)
Marsden, Charles P.
Narrative
This artifact is a 45 rpm record player with a wafer tube amplifier. It was built at the National Bureau of Standards (NBS) as part of Project Tinkertoy, a Navy Bureau of Aeronautics sponsored project to develop mechanized production of electronic equipment using standardized components. The record player was built to show the feasibility of the standardized wafer tube. The player has 3 tubes, one of which is a ""glass-front"" tube so that the inside construction and hot cathode can be seen. The player is mounted on Lucite box with a power supply and amplifier visible. Also visible are plastic-encapsulated cross-sections and a complete tube, and multivibrator circuits complete with circuit and 2 tubes. A cross section of the wafer tube stack is assembled in the carrier. The carriers were passed through the high vacuum processing machine ""monster"", entering and exiting at atmospheric pressure. It was in use from 1954-1958.
Keyword(s)
amplifier; wafer tube
Scientific Discipline
Electronics; Manufacturing
Publications
Project Tinkertoy: modular design of electronics and mechanized production of electronics. National Bureau of Standards Technical News Bulletin, 37(11) 161-170 (November 1953).; Elio Passaglia, A Unique Institution: The National Bureau of Standards 1950-1969. NIST Special Publication 925, 200-203. (1999).
Object Dimensions
A: 30 x 27 x 19 cm; B & C: 13 x 20 x 13 cm
Rights
Use of the images from NIST Digital Archives is not restricted, but a statement of attribution is required. Please use the following attribution statement: "National Institute of Standards and Technology Digital Collections, Gaithersburg, MD 20899"
Catalog Number
1998.0031.001A-C
Image Format
image/jpeg
https://nistdigitalarchives.contentdm.oclc.org/digital/collection/p15421coll3/id/363
0 replies, 98 views