Fri Aug 9, 2019, 06:22 PM
Aquila (2,583 posts)
26 times from 0 - 200 km/h and back: the new Porsche Taycan EV demonstrates its staying power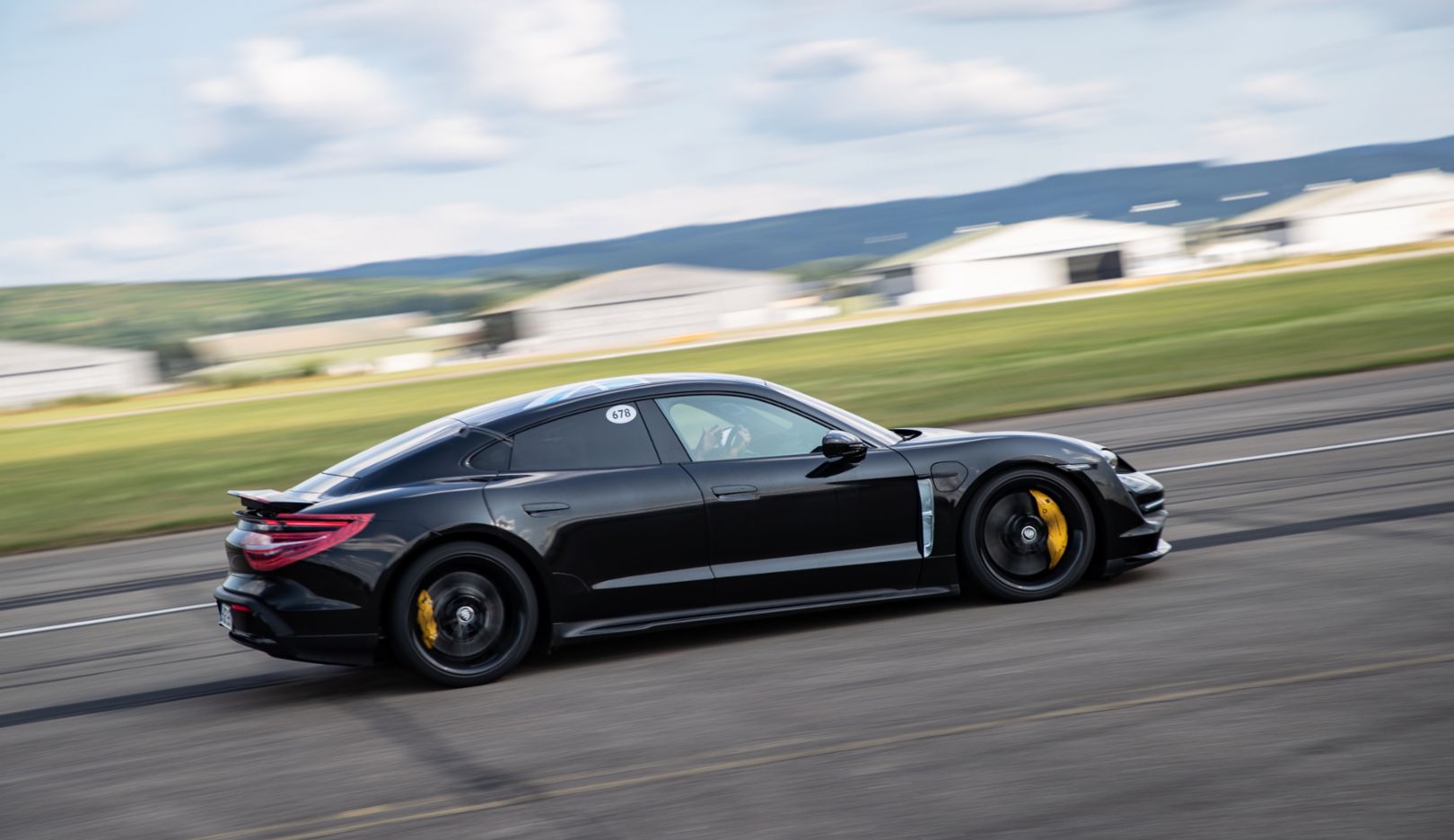 Porsche Global Newsroom | 8/9/2019
Performance typical for the brand that can be reproduced virtually as required: the Porsche Taycan's electric powertrain is designed to enable it to reach full power output even when accelerating multiple times in direct succession.
Numerous hot laps around a circuit are no problem for the first fully electric sports car from Zuffenhausen.
In an initial test, a pre-series version of this 440 kW (600 PS) all-wheel drive car accelerated from 0–200 km/h 26 times in succession. The Sprint Challenge was held at an airfield in Lahr in southern Baden. Average acceleration times documented on the "Fully Charged" YouTube channel were just under ten seconds. The difference between the fastest and the slowest attempts was just 0.8 seconds.
The test runs were carried out in both directions on the airport's taxiway. The entire strip, about 2.3 kilometres long, was used during the tests. The outside temperature was 28 degrees Celsius.
The Taycan is the first all-electric sports car from Porsche.
A full range of technical innovations in the Taycan guarantees breathtaking acceleration figures, traction power typical of a sports car and a superior, permanently-available power output.
The two powerful electric motors at the front and rear axles are the so-called permanently excited synchronous motors (PSM). They feature a rotor with high-grade permanent magnets that generate a natural magnetic field. As a result, the rotor moves in sync with the magnetic rotating field of the stator, hence the name PSM. A pulse inverter specifies the frequency of the rotating field in the stator, therefore determining rotor speed. The design, function and excellent thermal behaviour of permanently excited synchronous motors allow them to deliver the high performance typical of Porsche... more:
https://newsroom.porsche.com/en/2019/products/porsche-taycan-reproducibility-power-output-electric-drive-18322.html
The Fully Charged Show is given exclusive access to get Jonny Smith behind the wheel of the new first Porsche all electric car - the Taycan - and drive it full throttle from 0-124 mph (200 km/h) dozens of times. The Taycan is a twin motor 600+hp, 96kWh, 800-volt 4-door 4-seater coupe with a supposed range of 320 miles (≈ 515 km) . It can reach 0-62 mph (0 -100 km/h) in just over 3 seconds repeatedly, and can rapid charge at over 250kW. With a charging time ≈ 0 - 80% in about 40 minutes.
#TeslaKiller
0 replies, 67 views