Sat Jan 21, 2017, 06:13 PM
Cyberpunk (5,719 posts)
Northrop YF-23 Prototype Stealth Fighter 1980s-90s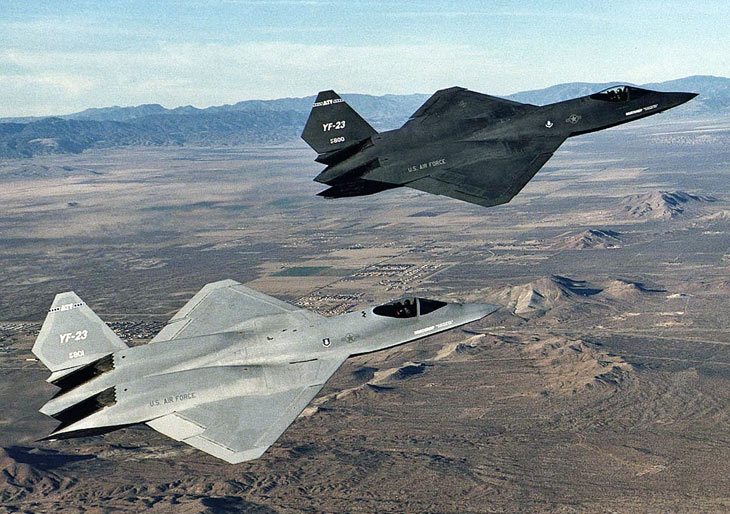 The Northrop/McDonnell Douglas YF-23 was a prototype stealth fighter aircraft developed during the 1980s and first part of the 1990s. It was designed for a USAF brief which called for an advanced tactical fighter. All the major US aircraft manufacturers of the time submitted designs to the United States Air Force, including Lockheed, McDonnell Douglas, Northrop, Grumman, Rockwell, General Dynamics and Boeing. The Northrop YF-23 and the Lockheed YF-22 were the finalists, with the production contract eventually being awarded to the YF-22.
The Northrop YF-23 was built in answer to the Soviet Union's most advanced fighter jets, namely the Sukhoi Su-27 and the Mikoyan MiG-29. The primary role of the YF-23 was to have been air-to-air combat, and it used the latest technologies, including composite materials and lightweight metal alloys, as well as the latest flight-control systems and stealth technology to make it faster, more agile, and more stealthy than almost every other fighter.
The YF-23, although originally designed by Northrop, was also developed with the help of McDonnell Douglas, who joined the project after the YF-23 was selected as a finalist in the competition.
Read more:
http://www.diseno-art.com/encyclopedia/strange_vehicles/northrop_yf-23.html
1 replies, 364 views
Replies to this discussion thread
| | | | |
| --- | --- | --- | --- |
| 1 replies | Author | Time | Post |
| Northrop YF-23 Prototype Stealth Fighter 1980s-90s (Original post) | Cyberpunk | Jan 2017 | OP |
| | freedumb2003 | Jan 2017 | #1 |
---
Response to Cyberpunk (Original post)
Sat Jan 21, 2017, 07:17 PM
freedumb2003 (950 posts)
1. If it looks like the F-22 Raptor it is because it was the competitor
It was initially the F-23 Lightning. Of course the F-35 Flying Anvil ended up with that name.