Sat Nov 17, 2018, 10:47 PM
wonderwarthog (16,892 posts)
New Purchase - Radio Shack 12-586
"AM DX reception is of more than acceptable quality from this product category after sunset with clear skies. RadioShack Pocket Radio offers outstanding sensitivity and selectivity reception in daily operation. FM reception is equally impressive compared to its AM counterpart. FM music programs offer excellent treble and bass frequency response. FM stations feature a magnificent and robust sound quality to them. FM music stations are well-defined, demonstrate crisp vocals, distinct guitar, violin and drum reproduction.
RadioShack 12-586 Pocket Radio's tuning dial makes it super easy to lock in on a station. There is no need to frequently readjust the tuning dial on either broadcast band. The volume level produced from the powerful monaural speaker is nicely loud, offers great depth, detail, subtlety, nuance and balance for both music and talk radio stations. This unit operates efficiently on two AA batteries (not included with purchase) while offering exceptional battery life.
https://computerhobbyistny.com/2015/09/04/radioshack-amfm-pocket-radio-review-6/
"When it comes to radios, there are many 'sleepers'. The Sangean PR-D5 I mentioned in two of my posts earlier on this blog is one of these 'sleeper' radios. It was marketed as a table radio -- it looks like something a soccer mom would have in her kitchen to listen to soft pop music. And it looks like a mini-boombox -- which it actually is. But the PR-D5 has excellent performance, especially for those MW listeners who want to hear stations from far away. In fact, it's one of the best new long distance AM radios you can buy.
ENTER THE RADIO SHACK 'POCKET RADIO'
The Radio Shack 120-586 AM-FM Pocket Radio is another such 'sleeper' product. I first heard of it on the internet. Some guys were saying it had amazing AM broadcast band reception. It was available at the local Radio Shack for around $14 -- that's $4-5 cheaper than a Sony SRF-59. So I got a Pocket Radio about six months ago.
What the guys on the internet said is very true: for a small pocket radio, which resembles the traditional transistor pocket radios of the 1960's and 1970's, it has amazing AM band and very good FM band performance.
SiLabs radio chips are probably the best known brand of these digital radio chips, at least among radio DX'ers. The typical SiLabs radio chip has an analog low noise amp (to maximise the signal coming off of the FM or AM antenna) -- and then a section in the chip converts the analog radio waves into digital signals, which are then amplified, tuned, filtered and processed by the software inside the chip. After that processing, the chip converts the digital signals back into analog audio signals, which are then sent to an amplifier chip that drives the speaker or headphones."
https://interrocknation.blogspot.com/2015/12/radio-shack-120-586-pocket-radio.html?m=1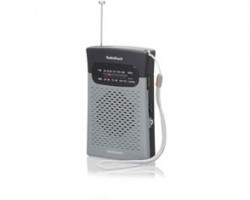 Purportedly in excellent working/cosmetic condition.
Will review on arrival.
Can't go wrong for 17 bucks.
If it outperforms my Countycomm Gp5 ssb, I'll be pissed.
Oh - it has the extended a.m. band, too!
0 replies, 197 views