Tue Nov 14, 2017, 11:34 AM
RCW2014 (12,709 posts)
U.S. to Dominate Oil Markets After Biggest Boom in World History
•U.S. expansion to beat Saudi oil growth, Soviet Union's gas
•Lower crude prices will help buoy global demand, agency says
By Grant Smith
November 13, 2017, 7:00 PM EST Updated on November 14, 2017, 9:37 AM EST
IEA Executive Director Fatih Birol discusses the U.S. shale surge and its impact on the global oil market.
The U.S. will be a dominant force in global oil and gas markets for many years to come as the shale boom becomes the biggest supply surge in history, the International Energy Agency predicted.
By 2025, the growth in American oil production will equal that achieved by Saudi Arabia at the height of its expansion, and increases in natural gas will surpass those of the former Soviet Union, the agency said in its annual World Energy Outlook. The boom will turn the U.S., still among the biggest oil importers, into a net exporter of fossil fuels.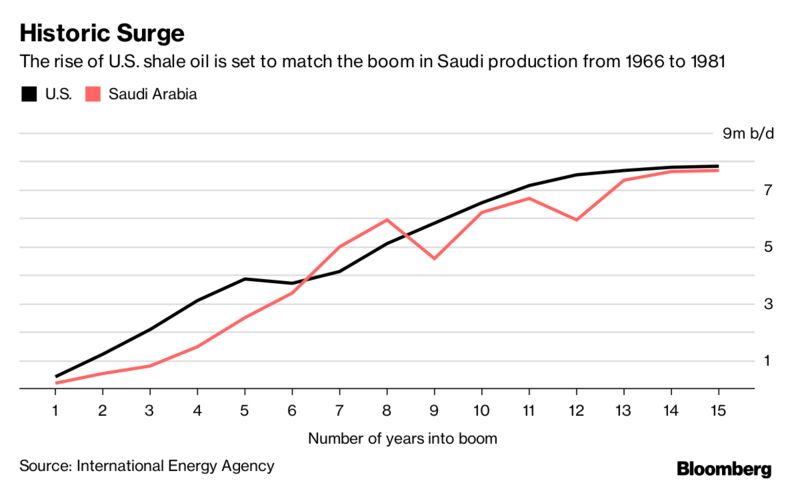 "The United States will be the undisputed leader of global oil and gas markets for decades to come," IEA Executive Director Fatih Birol said Tuesday in an interview with Bloomberg television. "There's big growth coming from shale oil, and as such there'll be a big difference between the U.S. and other producers."
The agency raised estimates for the amount of shale oil that can be technically recovered by about 30 percent to 105 billion barrels. Forecasts for shale-oil output in 2025 were bolstered by 34 percent to 9 million barrels a day.
The U.S. industry "has emerged from its trial-by-fire as a leaner and hungrier version of its former self, remarkably resilient and reacting to any sign of higher prices caused by OPEC's return to active market management," the IEA said.
more...
https://www.bloomberg.com/news/articles/2017-11-14/iea-sees-u-s-shale-surge-as-biggest-oil-and-gas-boom-in-history
1 replies, 181 views
Replies to this discussion thread
| | | | |
| --- | --- | --- | --- |
| 1 replies | Author | Time | Post |
| U.S. to Dominate Oil Markets After Biggest Boom in World History (Original post) | RCW2014 | Nov 2017 | OP |
| | quad489 | Nov 2017 | #1 |
---
Response to RCW2014 (Original post)
Tue Nov 14, 2017, 11:38 AM
quad489 (17,865 posts)
1. Good, even more reason for the US to boost vehicle efficiencies...
...so that the US can once again be energy independent from terrorists supporting middle east oil.