Tue Nov 14, 2017, 11:45 AM
RCW2014 (12,777 posts)
How an Oil Giant (Russia) Came to Dominate Wheat
By Anatoly Medetsky
November 13, 2017, 12:00 AM EST From
Russia, a leading exporter of crude oil for decades now, is increasingly dominating another critical global commodity. Its output of wheat has surged in recent years as good growing conditions boost farmers' profits, allowing them to reinvest in better seeds and equipment. As low oil prices hurt the ruble, making grain more alluring for overseas buyers, Russia grabbed more of the wheat-export market from major shippers like the U.S. This is particularly welcome news for Russia as it tries to cut its dependence on agricultural imports, after it banned imports of some western foods in retaliation to sanctions imposed over the annexation of Crimea.
1. Who's buying Russian wheat?
About half the countries in the world import wheat from Russia. Some of the biggest buyers are situated a short distance away, in the Middle East and North Africa, but demand comes from as far away as Mexico and Indonesia. Russia's top customer, Egypt, depends on Russian wheat to feed its people, while No. 2 buyer Turkey uses the grain to make flour it then exports. This season's shipments are expected to be up more than 40 percent from just three years ago.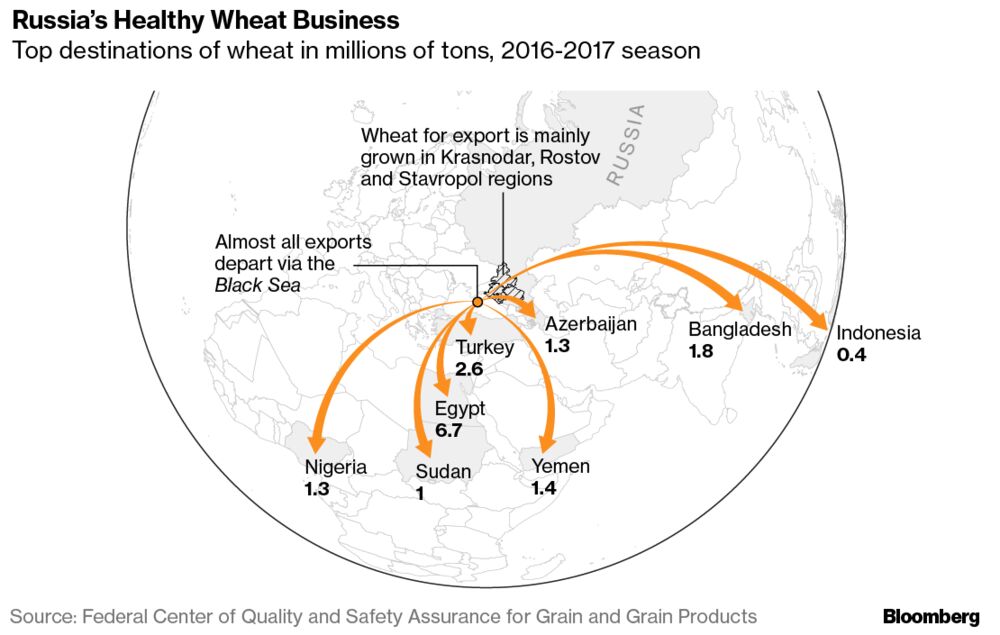 2. What's the allure of Russian grain?
It's cheap. Gluts from years of bumper harvests depressed prices, which are also kept down by the short shipping routes from the Black Sea -- the hub for the bulk of Russia's supply -- to Middle Eastern and African buyers. More recently, poor crops made grain from North America and Australia less attractive to some of their traditional markets in Asia, opening up the door for Russian wheat.
3. How did Russia become a wheat export king?
Russia's wheat exports began to surge at the start of this century, after Soviet-era collective farms gave way to private ownership of rich soils and farmers gained access to the latest international technology. Now, tractors made by U.S. firm Deere & Co. and Germany's Claas KGaA roll across Russian farms, and crops are sprayed with pesticides made by Monsanto Co. and Syngenta AG. Helped by state support, farmers' costs can be as little as half those of major competitors, so Russia can afford to keep planting even when prices tumble.
more...
https://www.bloomberg.com/news/articles/2017-11-13/how-an-oil-giant-russia-came-to-dominate-wheat-quicktake-q-a
3 replies, 239 views
Replies to this discussion thread
| | | | |
| --- | --- | --- | --- |
| 3 replies | Author | Time | Post |
| How an Oil Giant (Russia) Came to Dominate Wheat (Original post) | RCW2014 | Nov 2017 | OP |
| | Badsamm | Nov 2017 | #1 |
| | RCW2014 | Nov 2017 | #2 |
| | Badsamm | Nov 2017 | #3 |
---
Response to RCW2014 (Original post)
Mon Nov 20, 2017, 05:51 PM
Badsamm (12,311 posts)
1. Wait a second. MSM tells me Russia is isolated but now Im reading Russia sells
Wheat to HALF the planet?

I just love how much bullshit we are fed daily
---
Response to Badsamm (Reply #1)
Mon Nov 20, 2017, 07:34 PM
RCW2014 (12,777 posts)
2. The worm turned after Vlad instituted Russian pro-family, antigay laws. Lefty loved
---
Response to RCW2014 (Reply #2)
Mon Nov 20, 2017, 10:14 PM
Badsamm (12,311 posts)
3. Lefty leaves out the point that the anti gay attacks occurred in predominantly Muslim areas