Sun May 12, 2019, 08:05 AM
Frankenvoter (8,034 posts)
Hep-A, you might as well get used to your food being contaminated with it
https://www.foodsafetynews.com/2019/05/researchers-say-vaccinations-could-stamp-out-hepatitis-a-outbreaks/#more-183894
Hows it getting there? Migrants shitting in the feilds? Yes, that's part of it, but also your contaminated chefs and food staff.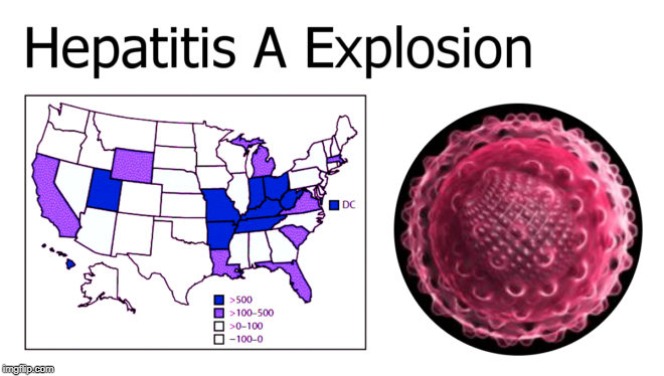 Looking at that map I can clearly see how the midwest is where all the lettuce is being picked (not).
It's "the help" at your local restaraunts, and if they're carrying around Hep-A, I wonder what else they have in thier viral cocktail.
And why would they have a "viral cocktail"? Because they're in a high risk group, cooking the food of those who are not.
Quote: public health officials in some states have said 20 percent to 30 percent of the confirmed hepatitis A patients they have recorded were not in any of the so-called high risk groups, which suggests they became infected through contaminated foods or beverages. E/Q
"Although they were not in any of the high risk groups" indicating there ARE high risk groups, that we'll never really hear specifics about because that would be giving negative press to our LGBTQ/RSTUVWXY and Z population, who populate the food service world, and are giving thier diseases to the customers.
2 votes, 0 passes | Time left: Unlimited
Yes, food service workers need tested for freaky diseases before touching peoples food

2 (100%)

No, food service workers don't need tested for freaky diseases before touching peoples food

0 (0%)

0 Discussionist members did not wish to select any of the options provided.
Show usernames

Disclaimer: This is an Internet poll
1 replies, 217 views
Replies to this discussion thread
| | | | |
| --- | --- | --- | --- |
| 1 replies | Author | Time | Post |
| Hep-A, you might as well get used to your food being contaminated with it (Original post) | Frankenvoter | May 2019 | OP |
| | rahtruelies | May 2019 | #1 |
---
Response to Frankenvoter (Original post)
Sun May 12, 2019, 01:26 PM
rahtruelies (16,535 posts)
1. checked especially if they don't have a greencard