Sun May 24, 2015, 04:28 PM
R2D42 (3,963 posts)
RIP Anne Meara
Anne Meara, Actress And Mother Of Ben Stiller, Dies At 85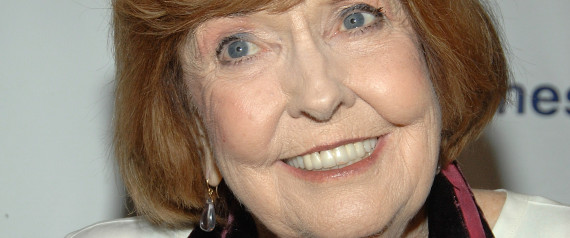 LOS ANGELES (AP) — Actress and comedian Anne Meara, who gained fame as half of the comedy team Stiller & Meara and went on to star in TV and film, has died. She was 85.
Her husband, Jerry Stiller, and son Ben Stiller say Meara died Saturday. No other details were provided.
The Stiller family released a statement to The Associated Press on Sunday describing Jerry Stiller as Meara's "husband and partner in life."
"The two were married for 61 years and worked together almost as long," the statement said.
The couple performed as Stiller & Meara on "The Ed Sullivan Show" and other programs in the 1960s and won awards for the radio and TV commercials they made together. Meara also appeared in dozens of films and TV shows, including a longtime role on "All My Children" and recurring roles on "Rhoda," ''Sex and the City" and "The King of Queens." She was twice nominated for an Emmy Award for her supporting role on "Archie Bunker's Place," along with three other Emmy nods, most recently in 1997 for her guest-starring role on "Homocide."
http://www.huffingtonpost.com/2015/05/24/anne-meara-dies-ben-stiller-mother_n_7432372.html?1432498075
4 replies, 662 views
Replies to this discussion thread
| | | | |
| --- | --- | --- | --- |
| 4 replies | Author | Time | Post |
| RIP Anne Meara (Original post) | R2D42 | May 2015 | OP |
| | City Kitty | May 2015 | #1 |
| | R2D42 | May 2015 | #3 |
| | RATFINK_5.0 | May 2015 | #2 |
| | graham4anything4HC45 | May 2015 | #4 |
---
Response to R2D42 (Original post)
Sun May 24, 2015, 04:49 PM
City Kitty (7,860 posts)
1. Aww, Man!
I remember the Stiller & Meara routines. Youngsters know her as Ben Stiller's mother (it took imdb to convince my husband that Jerry Stiller from Seinfeld was Ben Stiller's father).

She was a gem.

Edited to add a skit they did on the Carol Burnett Show:




RIP

---
Response to City Kitty (Reply #1)
Sun May 24, 2015, 05:15 PM
R2D42 (3,963 posts)
3. I'd forgotten that one
Here are a couple of their classic routines (audio only):


---
Response to R2D42 (Original post)
Sun May 24, 2015, 05:11 PM
RATFINK_5.0 (15,967 posts)
2. No ! Ben Stiller's Blessed Mother ! ... G-d bless them.
---
Response to R2D42 (Original post)
Sun May 24, 2015, 07:12 PM
graham4anything4HC45 (31,106 posts)
4. Sad. Anne Meary was class.
Always thought it was an Odd couple relationship between her and Jerry.(and that he got the better of the deal)

I first remember her from the Bea Arthur starring movie "Lovers and Other Strangers"

It must be devastating for Jerry Stiller. Always thought of both of them at the same time.

And Anne was in a way the Grandmother of Marcia Brady, as Jerry's wife was the Marcia in the three
Brady Bunch movies gently spoofing the old tv show.


https://pmatep5f7b.execute-api.us-east-1.amazonaws.com/ProdStage