Sat Apr 29, 2017, 10:38 PM
Currentsitguy (22,500 posts)
We went to the strangest event today for a friend's birthday
A friend of our is is for lack of a better term, a Beer Snob. He and his wife invited us to a Breakfast (brunch) Beer and Doughnut paring. Many were really strange, but I have to admit this Coffee Stout we tried with the Maple Bacon Doughnut was actually an oddly good pairing.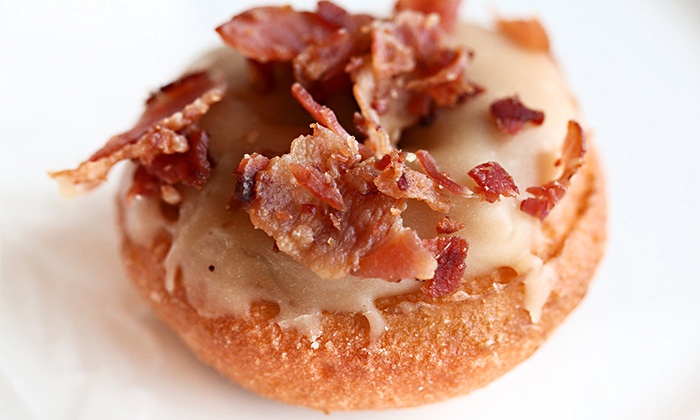 Guess it goes to show be open to new things.
5 replies, 423 views
Replies to this discussion thread
| | | | |
| --- | --- | --- | --- |
| 5 replies | Author | Time | Post |
| We went to the strangest event today for a friend's birthday (Original post) | Currentsitguy | Apr 2017 | OP |
| | Ax Crazy | Apr 2017 | #1 |
| | DoDaMan | Apr 2017 | #2 |
| | MumblyPeg | Apr 2017 | #3 |
| | frankt8242 | Apr 2017 | #4 |
| | Squeek | Apr 2017 | #5 |
---
Response to Currentsitguy (Original post)
Sun Apr 30, 2017, 01:37 AM
Ax Crazy (2,222 posts)
1. So Buzz Beer actually became a thing.
I'm not a drinker, but a beer and doughnut tasting event sounds like it'd be pretty fun! I like out-of-the-box ideas for parties.
---
Response to Currentsitguy (Original post)
Sun Apr 30, 2017, 01:54 AM
DoDaMan (6,563 posts)
2. I'm kind of a beer snob myself.
I was stationed in Germany for a few years and really learned to appreciate the different tastes of beer...I literally failed at my quest to drink Germany dry.

Chocolate (sweets in general) goes very well with beer.

I can't stand to drink the old school American beers besides for Michelob products. I like to try any new IPA that I cross paths with. My current "go to" beer to fill the fridge with is Yuengling (both the Lager and light) it's a great beer that serves many purposes.

My latest thing is wine. I never was a "wine person" and I despise a wine drunk but we have a vineyard close to us and it's absolute great sampling their different tastes.


---
Response to DoDaMan (Reply #2)
Sun Apr 30, 2017, 08:18 AM
MumblyPeg (20,417 posts)
3. I never could get into it...
I don't generally like the "hard" stuff.
I'm a Corona on normal weekends and Moosehead on off days kinda guy. That's as far as I stray when it comes to beer.
Whiskey is a whole different game... I used to be big into sampling good whiskey mixed with cigars.
Now, I'll only sip on homemade stuff, I've found nothing on the shelf that compares to what this guy makes. He experiments a lot and most of it is absolutely exceptional. I've had people over that begged me to sell them some or reveal the source.
Of course, the guy making it isn't selling, he's a hobbyist and gives it all away to a few close friends.
Just goes to show... a 70 year old guy from Kentucky can beat the best of them
---
Response to Currentsitguy (Original post)
Sun Apr 30, 2017, 09:18 AM
frankt8242 (14,397 posts)
4. As a former "beer snob" myself, I can recall a conversation I ...
once had with the greatest "beer snob" in history, Michael Jackson, (not the baby fukkah), at the Great American Beer Festival in Denver in the mid '90's..We were out having a couple of brews after the festival, and he held up his glass of beer to the light, stared at it, and commented: "you know Frank, in reality, it's only a fukkin glass of beer"...
He was the keynote speaker that year, and when he came on stage, he introduced himself by saying, in his rich British accent:
"My name is Michael Jackson, I don't sing, I don't dance, and I don't fancy little boys !!"
He had us rolling in the aisles..!!

---
Response to Currentsitguy (Original post)
Sun Apr 30, 2017, 09:31 AM
Squeek (14,056 posts)
5. Never could understand
the fascination for beer.
It all tastes the same to me...like horse piss.
I am, however, a chocolate snob. Oh well