Sat Dec 22, 2018, 06:23 AM
Aquila (2,895 posts)
Swedish Housing Block Powered 100 Percent by Sun and Hydrogen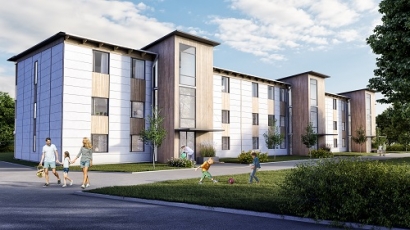 Renewable Energy Mag.com | 21 DEC 2018
The world's first energy self-sufficient housing complex located in Vårgårda, Sweden, now runs entirely on solar energy and stored hydrogen as the result of a Danish-Swedish partnership between Better Energy and Nilsson Energy.
The solar-hydrogen Vårgårda project in Sweden is a breakthrough in clean energy and sustainable building. When the complex is completed and fully operational, a total of 172 flats in six housing blocks will be capable of operating completely free from external energy sources. Residents will be 100 percent independent and disconnected from electrical power grids, outside heating sources and fluctuating electricity prices. The rooftop solar PV panels alone will produce enough energy to meet their power needs year-round.
The challenge of renewable energy is that energy production and consumer demand do not always match. To overcome this challenge, a long-term storage solution is needed to provide electricity and heat when the sun shines less. By storing surplus energy in the form of hydrogen, solar-hydrogen projects offer a 100 percent clean, green, long-term storage solution.
Hydrogen gas has the largest energy content of any fuel, which means that a small amount of hydrogen can store a large amount of energy. Hydrogen is also chemically stable and can store energy for long periods of time. In a solar-hydrogen system, energy from the sun can be harnessed and stored for later use, producing only oxygen and pure water as waste products.
"Ironically, our solution involves the limitless energy of the sun and the simplest, lightest, most abundant element on Earth, hydrogen. Resources and technologies right in front of us. We're just combining them in a new, clean and extremely efficient manner. It's brilliantly simple," explains EVP Sales, Nicolai Faaborg Andresen, Better Energy....more:
https://www.renewableenergymagazine.com/pv_solar/swedish-housing-block-powered-100-percent-by-20181221
Vårgårda, Sweden coordinates: 58°02′N 12°48′E
9° north of Washington State. So much for "too far north"
58 NORTH LATITUDE!!!!!
Hydrogen- the Next Big Thing™- you read it here first.
3 replies, 266 views
Replies to this discussion thread
| | | | |
| --- | --- | --- | --- |
| 3 replies | Author | Time | Post |
| Swedish Housing Block Powered 100 Percent by Sun and Hydrogen (Original post) | Aquila | Dec 2018 | OP |
| | quad489 | Dec 2018 | #1 |
| | MumblyPeg | Dec 2018 | #2 |
| | oflguy | Dec 2018 | #3 |
---
Response to Aquila (Original post)
Sat Dec 22, 2018, 07:40 AM
quad489 (29,274 posts)
1. Funny how they NEVER mention how much $$$$$$$ all that costs nor how long the H2 reserves will last.
---
Response to Aquila (Original post)
Sat Dec 22, 2018, 10:13 AM
MumblyPeg (20,417 posts)
2. show us
- install costs
- that it's completely disconnected from the nasty coal network
- ongoing maint costs
- lifecycle length

show us.
we'll be right here
---
Response to Aquila (Original post)
Sat Dec 22, 2018, 10:31 AM
oflguy (20,796 posts)
3. Hydrogen is also detrimental to the Ozone Layer
If the solar panels on the roof are capable of all this electricity, then the smarter way to go would be to sell the excess electricity to the utility company through a net meter, instead of wasting it on inefficient hydrogen production.
https://pmatep5f7b.execute-api.us-east-1.amazonaws.com/ProdStage