Sat Jan 5, 2019, 06:56 PM
MumblyPeg (20,417 posts)
Nobody wants to take your guns away [View all]
Fucking commie bastards.
Virginia's Democrat Gov. Pushes Gun Confiscation Orders, Criminalization of Private Sales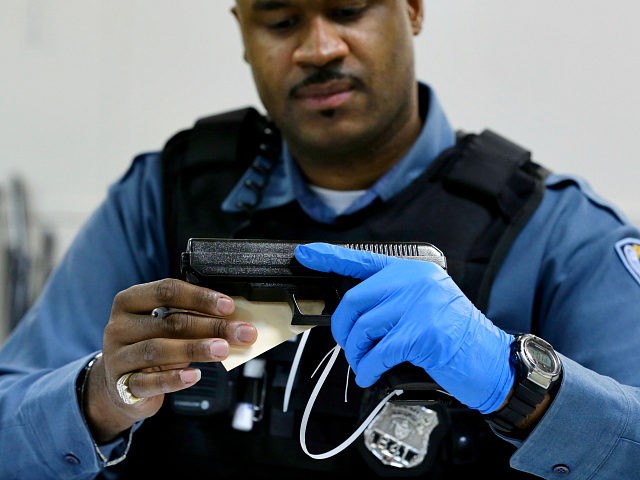 Virginia Gov. Ralph Northam (D) proposed gun confiscation orders, criminalization of private gun sales, an "assault weapons" ban, and other gun controls on Friday.
Northam claimed these controls will reduce "gun violence" although all evidence actually points to the contrary.
Northam tweeted: "This morning I announced a broad package of reasonable legislation to prevent gun violence and improve Virginia's public safety. I look forward to having a dialogue with the General Assembly this session on these important issues."
Link to tweet
146 replies, 2382 views
Replies to this discussion thread
146 replies
Author
Time
Post

Nobody wants to take your guns away

[View all]

MumblyPeg
Jan 2019
OP
Nostrings
Jan 2019
#1
Carl
Jan 2019
#2
Cold Warrior
Jan 2019
#3
Carl
Jan 2019
#4
MumblyPeg
Jan 2019
#6
Red Bull
Jan 2019
#5
rahtruelies
Jan 2019
#7
Trevor
Jan 2019
#8
Carl
Jan 2019
#9
Trevor
Jan 2019
#11
Carl
Jan 2019
#14
Trevor
Jan 2019
#16
357blackhawk
Jan 2019
#27
Carl
Jan 2019
#50
Trevor
Jan 2019
#51
Carl
Jan 2019
#66
Trevor
Jan 2019
#71
Nostrings
Jan 2019
#73
Trevor
Jan 2019
#75
Nostrings
Jan 2019
#77
Trevor
Jan 2019
#80
Nostrings
Jan 2019
#83
Trevor
Jan 2019
#88
Nostrings
Jan 2019
#89
Trevor
Jan 2019
#91
Nostrings
Jan 2019
#94
Trevor
Jan 2019
#95
Nostrings
Jan 2019
#96
Trevor
Jan 2019
#98
Nostrings
Jan 2019
#102
Trevor
Jan 2019
#105
Nostrings
Jan 2019
#106
Trevor
Jan 2019
#109
Nostrings
Jan 2019
#114
Trevor
Jan 2019
#123
Nostrings
Jan 2019
#127
Trevor
Jan 2019
#130
Nostrings
Jan 2019
#133
Trevor
Jan 2019
#135
Nostrings
Jan 2019
#138
Trevor
Jan 2019
#141
Nostrings
Jan 2019
#142
Trevor
Jan 2019
#144
Nostrings
Jan 2019
#145
Charlie Mike
Jan 2019
#139
Carl
Jan 2019
#79
Trevor
Jan 2019
#81
Carl
Jan 2019
#82
Trevor
Jan 2019
#86
Carl
Jan 2019
#92
Nostrings
Jan 2019
#84
Nostrings
Jan 2019
#17
Trevor
Jan 2019
#19
Nostrings
Jan 2019
#20
MumblyPeg
Jan 2019
#10
Trevor
Jan 2019
#12
MumblyPeg
Jan 2019
#13
Trevor
Jan 2019
#15
MumblyPeg
Jan 2019
#18
Trevor
Jan 2019
#21
MumblyPeg
Jan 2019
#24
Trevor
Jan 2019
#29
MumblyPeg
Jan 2019
#31
Trevor
Jan 2019
#33
357blackhawk
Jan 2019
#38
Trevor
Jan 2019
#40
357blackhawk
Jan 2019
#42
Nostrings
Jan 2019
#122
TM999
Jan 2019
#46
Trevor
Jan 2019
#53
TM999
Jan 2019
#54
Trevor
Jan 2019
#56
TM999
Jan 2019
#62
Trevor
Jan 2019
#68
TM999
Jan 2019
#101
Trevor
Jan 2019
#104
TM999
Jan 2019
#111
Nostrings
Jan 2019
#117
Trevor
Jan 2019
#126
TM999
Jan 2019
#129
Trevor
Jan 2019
#136
TM999
Jan 2019
#137
Trevor
Jan 2019
#143
TM999
Jan 2019
#146
Carl
Jan 2019
#67
Hades
Jan 2019
#52
Crazy D
Jan 2019
#57
Trevor
Jan 2019
#58
Hades
Jan 2019
#65
Nostrings
Jan 2019
#25
Trevor
Jan 2019
#30
Nostrings
Jan 2019
#48
Trevor
Jan 2019
#59
Nostrings
Jan 2019
#61
Trevor
Jan 2019
#69
Nostrings
Jan 2019
#70
Trevor
Jan 2019
#72
Nostrings
Jan 2019
#74
Trevor
Jan 2019
#76
Nostrings
Jan 2019
#78
Trevor
Jan 2019
#85
Nostrings
Jan 2019
#87
Trevor
Jan 2019
#90
Nostrings
Jan 2019
#93
Trevor
Jan 2019
#97
Nostrings
Jan 2019
#99
Trevor
Jan 2019
#100
Nostrings
Jan 2019
#103
Trevor
Jan 2019
#107
Nostrings
Jan 2019
#108
Trevor
Jan 2019
#112
Nostrings
Jan 2019
#115
Trevor
Jan 2019
#125
Nostrings
Jan 2019
#128
Trevor
Jan 2019
#131
Nostrings
Jan 2019
#132
Trevor
Jan 2019
#134
TM999
Jan 2019
#113
Nostrings
Jan 2019
#116
TM999
Jan 2019
#118
Nostrings
Jan 2019
#119
TM999
Jan 2019
#120
Nostrings
Jan 2019
#121
kevlar
Jan 2019
#22
Nostrings
Jan 2019
#23
Trevor
Jan 2019
#34
357blackhawk
Jan 2019
#36
Trevor
Jan 2019
#43
357blackhawk
Jan 2019
#45
Nostrings
Jan 2019
#49
Trevor
Jan 2019
#60
Nostrings
Jan 2019
#63
Hades
Jan 2019
#140
357blackhawk
Jan 2019
#28
Trevor
Jan 2019
#32
357blackhawk
Jan 2019
#35
Trevor
Jan 2019
#39
357blackhawk
Jan 2019
#41
Trevor
Jan 2019
#44
357blackhawk
Jan 2019
#47
Trevor
Jan 2019
#64
357blackhawk
Jan 2019
#37
357blackhawk
Jan 2019
#26
Currentsitguy
Jan 2019
#55
Nostrings
Jan 2019
#110
Banshee 3 Actual
Jan 2019
#124